DVD review: Simon Evans, Live At The Theatre Royal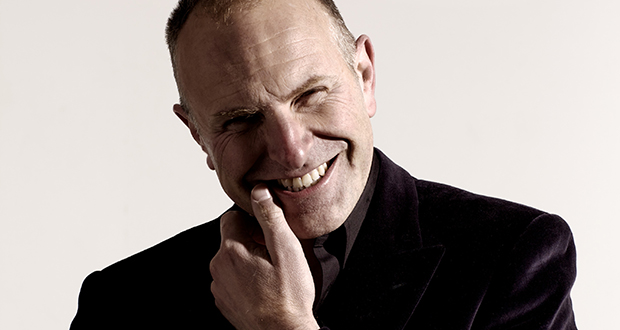 Simon Evans has been a firm fixture on the stand-up circuit for years, and has been performing at the Edinburgh Fringe since 2000, yet this is his first DVD release.
The inventively named Live At The Theatre Royal opens with two stooges in the audience, discussing the show – "Is Simon Evans the sweaty one?" "The really northern one?" before he takes the stage – an interesting solution to the issue of how to present a theatre show for a DVD audience.
The setup is simple; a stage, a mic, and a London backdrop, as Evans explains his route into comedy living variously in the suburbs of the city. In a surprise move for viewers, like me, who have only seen his short TV appearances, Evans opens in a relaxed conversational style, explaining that it is a DVD recording and that he intends to use all 18 years' worth of material in the 90-minute show, before launching into his trademark one-liners.
Evans' jokes are cleverly constructed, and unlike with other feedline/punchline gagsmiths, it often difficult to tell in which direction he will take a joke.
However Evans is far from one-dimensional, and his years on the live circuit clearly shine through as he creates an engaging evening of entertainment for the audience, whose enthusiastic laughter can be heard throughout the DVD. Evans is a true joke technician, his style comprising just about every type of joke conceivable – from the sublime to the ridiculous.
He meanders effortlessly through storytelling, classic "jokes", and endless sharp-tongued quips, some of which may alienate various factions of the audience (he really lays into Newcastle, for example), but his most scathing material is always accompanied with a roguish smile.
If he is ever unkind in his style, he can forgiven as his most acidic barbs are reserved for himself, and his own family. Everything is up for debate, from personal stories to news items, observations and simple contrived puns.
Any structure to the show must be described as "vague", although there is a loose autobiographical thread running throughout in a generally chronological order. Although Evans' stories are tangentially linked at best, each one is precisely and concisely written, with very clear settings and razor-sharp lines.
This writing prowess is clear throughout the whole show, even his asides are peppered with clever wordplay and quotable wisecracks. He is irreverent, witty, classic and progressive in equal measure.
It's easy to miss some of the smartest gags in the set, making this a perfect release for a DVD, worth watching again and again.
Simon Evans: Live At The Theatre Royal is out on DVD from Monday 1 December. Buy from Amazon for £10.