Review: Ed Gamble, Group Therapy, Manchester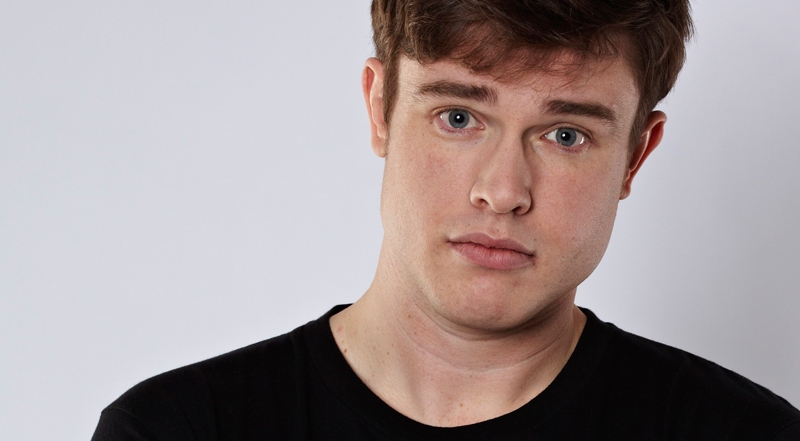 An endlessly charismatic Ed Gamble headlined April's Group Therapy, with Eric Lampert and MC Nish Kumar providing excellent support.
Both Kumar and Gamble were nominated for Best Compere in this year's Chortle Comedy Awards, for obvious reasons.
Nish Kumar – 'an interesting lad' – is a warm and enthusiastic stage presence, as well as a very smartly funny comedian with an effortless ability to win over an audience.
His inexplicably continuous and increasingly obscure 90s references (as well as his hugely self-aware delivery) was wonderful; his describing an audience member's cap as a'dope-ass lid' a highlight.
Eric Lampert was making his Manchester debut at Group Therapy – and what a club to do it at – with a seemingly inexhaustible energy store and a giddy faux confidence that makes him very much a stands alone act.
Lampert's gag/anecdote/observation quota is so huge, and delivered at such a high speed that there are inevitably misses as well as hits; but it's worth bearing in mind that, given the speed at which he bounds through his set, there's never a long wait between laughs.
Lampert is wholly committed to everything he does, which invariably works in his favour. In particular, a long, silent act out heading for a punchline we already knew – but it worked.
Group Therapy also showcased David Stanier this month, an ernestly giddy comic with an impressive arsenal of jokes.
Stanier's material is beautifully, banally silly; and delivered with the kind of honest innocence Lloyd Woolf and the Cowards lot were peddling.
Headliner Ed Gamble performs with such readily established confidence and warmth that it's impossible to not immediately like him.
On of the biggest appeals of Gamble's comedy is his fabulously articulate delivery, in particular when it clashes beautifully with his subject matter.
Gamble is not a 'drugsy' person, he tells us; and admittedly his diabetes might not be 'the sexiest illness on the disease smorgasbord.
His utter, unashamed awareness of his own, perhaps uncool attitudes in itself finds laughs; but far more Gamble's smart, deliberate writing and beautifully neat delivery are what makes him so fabulously watchable.
The next Group Therapy is 2 May 2015, featuring seven of the best new acts in the country. For more information, check out their website.