Review: Happily Ever After? 2015 Liverpool Improvathon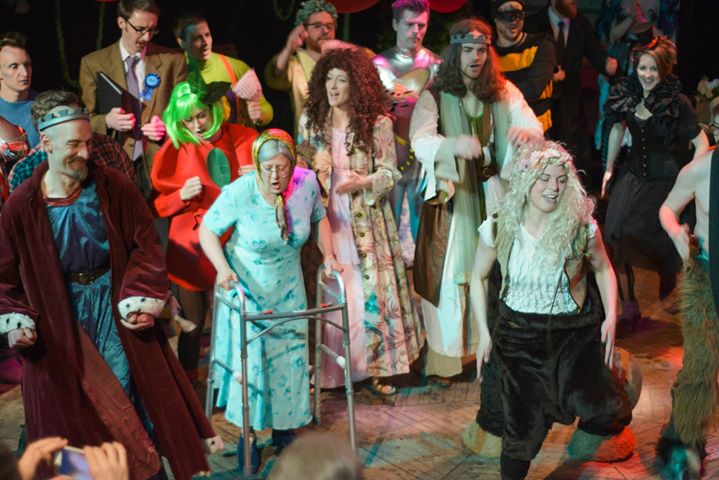 Image: Ynos Productions
At 1pm on Saturday afternoon, improv group Impropriety, alongside a few special guests, began an improvised comedy of epic proportions, down at The Kazimier in Liverpool.
At 10.35pm on Sunday evening, the cast, crew and a few especially dedicated members of audience clapped, cheered and collapsed, as the show came to an end.
Running continuously for 33.5 hours (or 2015 minutes), the annual Improvathon is the lengthiest event of its kind to take place outside of the big smoke, and is now in its 6th year.
This year's show, entitled Happily Ever After? borrowed a few familiar fairytale characters, including a ludicrously camp Hansel and Gretel, a couple of street wise centaurs and a Prince Charming that had more than a touch of the new romantic about him.
The story ducked and weaved through tales of stolen orchids, warring nations and forest parkour – it's an epic narrative sprinkled with sketchy set pieces and the occasional musical number.
The ever-transforming plot was masterfully guided by Director and Narrator Rosie Wilkinson (who has to be given a special note of admiration for her never faltering poise).
There's a lot to take in, and the show zig-zagged from impressively well thought out plot twists that genuinely made me gasp, to delightfully nonsensical outbursts that were soon swept under the rug of future plot.
The show featured hilarious, laugh out loud jokes, and heart wrenchingly moving scenes, as well as bits that made no sense – but nothing was done by halves. The moments of confusion just add to the glorious chaos of the thing.
Audience members who popped out for breakfast were likely to return to find the story had scampered off in an utterly mad and exciting direction.
One of the beautiful things about an Improv show of this length is that you get drawn into the in-jokes created within the room. A throw away line at 3pm, by 3am has gained huge significance, and the audience has been a huge part of the creation of the joke.
To those who manage the entire event, there's a feeling of utter elation that comes with the closing scenes, and a sense of achievement that you don't get with your average show.
You can follow Impropriety on Twitter to keep up with regular Improv workshops and events @Impropriety. You can also find a blow-by-blow, live blog of the show at impropriety.wordpress.com
Watch some of the highlights below courtesy of Ynos Productions: