Review: Jesting About, Live Theatre, Newcastle
Jesting About, presented under the guardianship of BBC Newcastle producer Steve Drayton (pictured), is a six-part radio series taking a look at the thriving comedy scene in the North East of England.

The show presents original scripts and sketches, interviews, and information on some of the region's up-and-comers, along with idents and contributions from stars such as Vic and Bob, Ross Noble, and Jason Cook.
The show, staged and recorded at the Live Theatre in Newcastle on Sunday 12 and Monday 13 April, features performances from stand up comics, sketch teams, musicians, and poets.
Man of the hour Steve Drayton introduces each of the two nights, over which he presents some of the most exciting acts that the North East has to offer.
MC duties are left in the equally capable hands of John Scott and Matt Reed, respectively.
Each of them uses their confident charm and solid gold, time tested material to rouse the audience for the quick-fire appearance of Jesting About's finalists.
Sunday's players are Katie Yossarian, sketch troupe Funny Team, Katherine Tanney, spoken word duo Pipe Riot, Mark Kennedy, Barry Fox, Lewis Gray, Rahul Kohli, and our New Act of The Month Sammy Dobson, topped off by headline act The Mimic Men – a duo comprising impressionists Alfie Joey and Cal Halbert.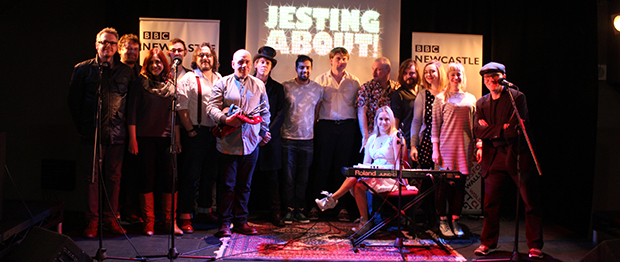 Following a shaky start, the piano-playing Katie Yossarian brings the audience onside early, although her jokes in between songs are clearly better rehearsed than the songs, and she struggles from having to censor the lyrics, interrupting her natural flow.
Funny Team, featuring Lee Kyle, Matt Reed, Nicola Mantalios-Lovett, and Sammy Dobson share a wonderful onstage chemistry which delights the audience and adds an electricity to the performance of their illusory situational sketches.
Katherine Tanney is the evening's first observational stand up, and brings an indignant logical perspective to daily life. Her material is solid, her delivery striking, and her confidence palpable. She stands out in a lineup of acts trying something unique, adopting a mainstream style and quite simply excelling in it.
Pipe Riot are an anarchic bagpipe-wielding duo, performing spoken word with the sensibility of John Cooper Clarke, the look of Iggy Pop and the passion of the Sex Pistols. Their off-the-wall anger is matched only by the ridiculousness of their subject matter.
Mark Kennedy is an understated performer at the best of times, but his dour delivery encapsulates the audience all the more following Pipe Riot. The ambling approach to his one-liners gives the punch-line a particular reverence, and his intelligent writing weaves surprise into every joke.
Barry Fox, a member of Silly Billies, has an impenetrable identity onstage, delivering bizarre left-field spoken word from sheets glued within the pages of his favourite comic book. His single-line poems are particularly memorable, offering a quick pullback-and-reveal payoff.
Lewis Gray's style is more downbeat, delivering a combination of groan-inducing Christmas cracker jokes, idiomatic wordplay, and mischievous arguments. Gray downplays his intelligence to great comic effect, establishing an expectation for the set which he can then debunk.
Rahul Kohli is another act whose radio set is heavily edited, given the racially-charged nature of some of his material. However in his case many routines work better with less anger than usual, and bring an interesting balance to his set.
Sammy Dobson's natural charisma informs her anecdotal routines, easing the audience into some of the tougher personal subjects she covers onstage. Her style is bubbly and positive, although much of her material is quite the opposite.
New act The Mimic Men brings an allegiance between veteran impressionists Alfie Joey and Cal Halbert. Swiftly allaying the apparent fears of a strange father-and-son act, the pair work their natural rapport to showcase the different impressions in their equally impressive arsenal, and explore the crossover between them. A promising act perfectly positioned for the exposure of radio.
Monday's lineup consists of David Callaghan, Hal Branson, Catherine Scott, Alex Jackson, Nicola Mantalios-Lovett, Rowan McCabe, Julian Lee, and John Whale, concluded by Andy Fury.
David Callaghan has a wealth of observational material, both relevant and topical to anybody who grew up in the 1990s. His retrospective references include Blazin' Squad, Macaulay Culkin, and Dave Benson Phillips. A large portion of his set brings guffaws from the audience, although most of it may prove unbroadcastable.
The endearing Hal Branson has natural affability in spades, and his self-referential storytelling is as heartwarming as his wordplay, hitting home with the audience throughout.
Catherine Scott's personal material is underlined by an understated confidence, giving her set a charming integrity.
Relative newcomer Alex Jackson surprises both the audience and the sardonic MC with a brilliantly witty, equally silly and observational set. A cocky, impassive character emphasizes the tight writing on display.
The endlessly playful Nicola Mantalios-Lovett takes the stage armed with some frivolous shaggy dog stories (literally, in the case of her routine about putting make up on her pets), and her Millican-esque delivery produces unavoidable bouts of laughter.
This evening's spoken word act Rowan McCabe is developing a buzz around him, and for very good reason. His deeply imaginative performance poetry is full of vivd imagery, a gamut of emotions, and a compelling pace that combine to create a technical perfect storm. More than this, however, he uses technique to make some very interesting points.
Sharp and droll one-liner merchant Julian Lee is a formidable talent, his thickset build belying a childish sense of humour. Fluffing a line gives him the opportunity to leave the comfort zone of his scripted material and his affable personality shines while he find his place, much to the amusement of the audience.
John Whale's surreal, dour, and introspective style leaves little room for surprise when he reveals he suffers from depression; but that gives him a unique outlook which creates some wonderfully intelligent routines and observations – a true comedian's comedian.
The burlesque Andy Fury closes the night wonderfully with a caricature-in-human-form, a deep exploration of a man's insecurities displaying a rare technical agility. His closing line is a simple one-line joke, made memorable by a good 3-minute lead-in, which requires the participation of an unwitting audience member, making for awkward hilarity with a comedically underwhelming payoff.
For two nights of free entertainment – and more on radio –  Jesting About offers an unassailable treasure trove of unique comedic talent.
My personal highlights from the events were John Scott's Geordie Bohemian Rhapsody; Funny Team's Playground Courtroom and Pets at the Vet sketches; Hal Branson's one-line summation of the great sport of Football; Alex Jackson's routine on exercise; Nicola Mantalios-Lovett's 30 goals to hit before the age of 30; Rowan McCabe's poem Currying Favour (about a man who loves curry but hates all immigrants); John Whale's beautifully researched line about Quantum Theory; and Rahul Kohli's unique solution to the Israel/Palestine conflict.
However the absolute highlight of the show must be given to the Mimic Men for their brief episode of 24, featuring a comedy westminster cabinet of Michael McIntyre, Billy Connolly, Rhod Gilbert, Kevin Bridges, Woody Allen and more.
Jesting About has already featured such comedy luminaries as Gavin Webster, Ben Crompton, Holly Burn, Rob Gilroy and John Scott, and some stand out performers from this round of talent search are surely destined for a very bright future.
The series is due to be broadcast in June on BBC Newcastle.