Review: Silly Billies Comedy, Live Theatre, Newcastle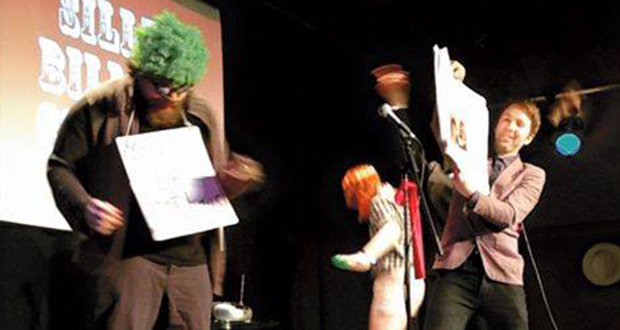 The gloriously anarchic Silly Billies Comedy is the monthly alternative night that has been taking The Cumberland Arms by storm over the last 18 months, and now it has graduated to a new home at the Live Theatre on Newcastle's Quayside.
Silly Billies' debut night in the theatre's attic studio space is sold out, with venue staff turning people away on the door.
A tongue-in-cheek parody of BBC6's Tyneside music festival blares from a portable radio as the night begins, complete with dodgy caricatures of Mark Radcliffe and Lauren Laverne.
Officially opening the night is the mayor of Newcastle (one of the Silly Billies team in a mask), followed by the Order of The Silly Billies – Jack Gardner, his friend Sam, a Hippo, and Barry Fox.
Any night where the "compere" spot is filled with freeform group dancing, handwritten song sheets, and grown men dressed as animals is guaranteed to be experimental.
If there is one local act who most encapsulates the phrase "experimental" it has to be Fernando. He spends 10 minutes onstage, most of it wearing a monkey mask, failing to peel and eat bananas, saying only "it's a monkey", before removing the mask and involving unwitting audience members in his intense avant-garde routines.
Ben Crompton continues in a similar audience-participatory vein, decimating the shackles of his "sensible" acting career with a new, seemingly half-baked character idea which he asks the audience to help him realise, drawing elements of the character's backstory on his bare torso.
He settles on Jonathan Gloveface, a man with a glove on his face who lives in a lighthouse and has issue with his mother and his unnamed evil brother – leading Crompton (or rather Gloveface) to run screaming and shirtless into the room brandishing scissors, showering the audience with great chunks of his freshly scissored hair… But not before he stands on a table full of drinks and sends the whole lot crashing to the floor.
Before the half-time break, John Scott arrives to bring some sense of normality back to the night, although in his tired and well-travelled state his observational style verges on the surreal in parts, fitting the night excellently.
Scott has some excellent political material, one-liners, and observational routines, which he blends with effortless style and charm.
Reigniting the strange and unique nature of the evening, Geordie character act Holly Burn seems at first to be a one-dimensional sendup of upper-middle class thespians, but the facade doesn't last long as she explains that this is not, in fact, her character, and that she must enlist the help of a long lost lover Jim in retelling her story.
The unsuspecting gentleman in the front row enlisted to play Jim is shellshocked but agrees with a commendable sense of fun, as he is eventually left dancing on his own, watching Holly slink away into the green room.
Finally, bringing all this silliness to a close is Simon Munnery, rounding off the night without a gimmick, or a character, or a prop.
He speaks honestly, using a heady mix of well-honed routines and work-in-progress material (some of which is completely off-the-cuff), showing that so-called "straight stand-up" can be wonderfully silly and surreal.
Munnery is intelligent yet not patronising, bizarre yet not foolish, abrasive yet not aggressive. In short, he is very, very skilled and a wonderful fit to end the first of a promising new residency for the Live Theatre.
All of the above combined with idiosyncratic interjections from hosts the Order of the Silly Billies creates a beautifully batshit evening of freakish comedy entertainment that, while not for the faint-hearted, never fails to reduce its switched-on audience to creased laughter throughout.
Date of live review: Sunday 22 February 2015