Dan Skinner Q&A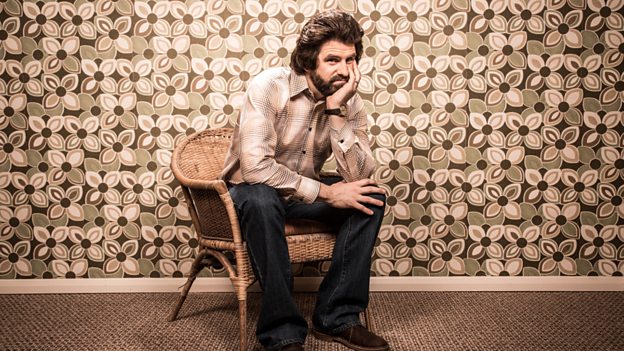 Comedian and actor Dan Skinner will be back on TV next month in The Kennedys, a multi-generation family comedy loosely based on Emma Kennedy's memoirs, The Tent, The Bucket And Me. Each episode is introduced by Emma Kennedy (played by Lucy Hutchison), a 10 year-old Star Wars obsessed tomboy who is happy to tag along with her much-loved parents, Brenda and Tony Kennedy (Katherine Parkinson and Skinner). We catch up with the Shooting Stars, House Of Fools and Friday Night Dinner star to find out more about his latest role.
Hi Dan. What can you tell us about your character, Tony Kennedy?
Tony is the father of Emma and husband of Brenda. He's a very proud, working-class Welshman who teaches art at secondary school. He adores both Brenda and Emma and he is what you might describe as the strong reliable type. He can build things, fix things and does it all with a willing smile on his face.
Although Brenda is a strong woman Tony isn't under the thumb, it's not a traditional 70s sitcom relationship. He gives as good as he gets and does the things she asks because he loves her.
What was it like having to grow your hair and beard for that authentic 70s style? Or is it a wig?
It is not a wig, it's all my own! There was an awful lot of hair about in the 70s it's true, the popular belief at the time being that lots of hair equals lots of manliness. I think you can always tell when an actor is wearing a wig or fake beard, we decided to grow our own.
I started growing mine in November and we began filming in March. When we came to filming it was deemed that I had too much hair, so they chopped a bit off, did a bit of sculpting and created the final result you see on screen. We are all very proud of the hair!
What do you think of Tony's 70s style?
Well, Tony has a fairly practical approach to clothing. He's got quite a few pairs of wide corduroys, plain shirts and lovely jumpers. In terms of looking like a 70s dude, I think Tim (played by Harry Peacock) wins in the fashion department; he gets to wear all the stuff you might have seen Barry Sheen wearing in a Brut advert from about that time: double denim, ankle boots, gold chains. Whereas Tony looks every inch the responsible art teacher he is.
How was it working with your other male co-star Harry? Are there any funny stories from being on set?
Harry and I bonded very quickly. We are both massive rugby fans so we spent most of the time talking about who we would pick to play for England for the upcoming Rugby World Cup. Not everyone's cup of tea of course and I'm sure on occasion we bored everyone on the makeup bus to death, including Harry's real-life wife Katherine, who weirdly is playing my wife in the show. Confused? I was…
Anyway, Harry and I would play rugby every lunch break and on one occasion I was a bit over-eager with one of my passes and put my shoulder out and had to have a bit of the afternoon off. It was boiling that day as well so I think I had a bit of sunstroke too, and when you're wearing 70's clothes (mostly thick materials, wool, corduroy etc.) you burn up pretty quickly.
In fact I don't know how they coped in the summer in the 70's wearing those clothes. It must have been very unpleasant on the underground every morning.
The Kennedys debuts on Friday 2 October at 9.30pm on BBC One.