Best-erval of Jesterval: 10 shows to see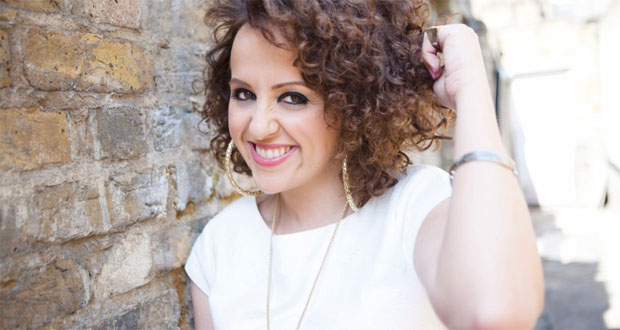 Pictured: Luisa Omielan is one of our Jesterval picks.
Where does the time go, eh? It'll be Christmas before you know it! No. No it won't be. What IS just around the corner however, is this year's Jesterval Comedy Festival.  Kicking off its five-day run this Thursday, it might be time to start work on your itinerary. A veritable comedy hot-pot, made up of telly regulars, circuit favourites and the cream of the local crop, Jesterval has something for every taste.
Not sure where to start? Here's our top ten to get you going:
Seymour Mace: Marmaduke Spatula's Fuckin'
Spectacular Cabaret of Sunshine Show
A extravaganza of filth and absurdity, Seymour Mace's newest show will delight fans of slapstick and silliness. Barmy scribbles, audience games and Mace's endearingly oddball charm make for a unique and gut-bustlingly funny show. All inhibitions and delicate sensibilities are probably best left outside the marquee.
Friday 4 October, 6.30pm
Simon Donald: Butch Straight Poof
The former Viz man takes on the big questions concerning  sexuality, gender stereotypes and whether drinking Earl Gray tea makes you a poof. With the help of a slideshow, some questionable singing and the occasional bit of input from his long-dead Nan, watch Donald rattle through gags in his inimitable high-energy fashion.
Monday 7 October, 6.45pm
Luisa Omielan: What Would Beyonce Do?!
When life got tough for Luisa Omielan, she turned to a special someone for guidance. Someone wise. Someone strong. Someone with unswervingly incredible hair. And now, in her feel-good, smash-hit show, she's bringing the Gospel of Beyonce to Jesterval. (Sing-a-longs optional, but highly recommended.)
Monday 7 October, 8pm
Lost Voice Guy: Voice of Choice
Lost Voice Guy brings his first full-length show, and his iPad, to Gateshead Quays. Unable to speak due to Cerebral Palsy, Voice of Choice details Lee Ridley's attempt to make himself heard while relying on technology to communicate with the world. Peppered with barbed observations and darkly self-deprecating humour, Voice of Choice boasts just the right mix of worthy profundity and impish mischief.
Thursday 3 October, 7pm
Click to read our review of the show.
Patrick Monahan: Cake Charmer
Show Me The Funny winner and serial hugger Patrick Monahan is guaranteed to soften the hardest of hearts with his boundless enthusiasm, and eternal love of cakes. The effervescent Teesider explores the little things that make people happy, and raises more than a few laughs in the process.
Thursday 3 October, 9.45pm
The Late Show
The Late Show brings Friday night to a close with a slack handful of talented comedians. Newcastle's own Mickey Hutton, the charmingly psychotic David Hadingham, panel-show fixture Ben Norris and shaggy-haired Irish star Ed Byrne. A regular face on Mock The Week , Have I Got News For You and Live at the Apollo, Ed's quick wit and masterful observations have made him one of the best-loved comics in Britain. Guaranteed to be a highlight, and one of the best value shows of the festival.
Friday 4 October, 10pm
Andrew Maxwell: Banana Kingdom
Closing the festival, it's the embittered social commentator, and all-round curmudgeon, Andrew Maxwell. Consistently fearless and leaving no hot topic unmolested, Maxwell tears through smart, acerbic gags with bluster, while remaining comfortably accessible. An unmissable, critically-lauded show.
Monday 7 October, 9.15pm
Impro Comedy All Stars
Six razor-sharp comedy minds join forces in this unique, one-off performance. Raw, unscripted and unpredictable, audience suggestions are turned into improvised sketches as Marcus Brigstocke, Dave Johns, Steve Frost, Steve Steen, Andy Smart and Ian Coppinger present a night of spontaneity and mayhem.
Saturday 5 October, 9.30pm
Silky: Kids' Comedy
Didn't we say there was something for everyone? We weren't kidding; you can even bring the kids along this year, with four free family shows taking place throughout the festival. Kicking off Sunday's festivities is Scouse stand-up Silky, who'll be delivering big laughs, family-friendly silliness, and a few little in-jokes for Mam and Dad.
Sunday 6 October, 12pm
Ian D Montfort: Psychic Fayre
There's loads of comedy shows that can make you laugh, but how many can put you in touch with your dead cat? Just this one. Maybe. In this hilarious and head-scratchingly clever send-up of modern mediums, witness Sunderland psychic Ian D Montfort probe the minds of his audience to cringe-worthy effect.
Saturday 5 October, 8.15pm
Jesterval Comedy Festival runs 3-7 October at Baltic Square, Gateshead Quays. For tickets and further information, visit jesterval.co.uk.