Gigglebox Weekly #69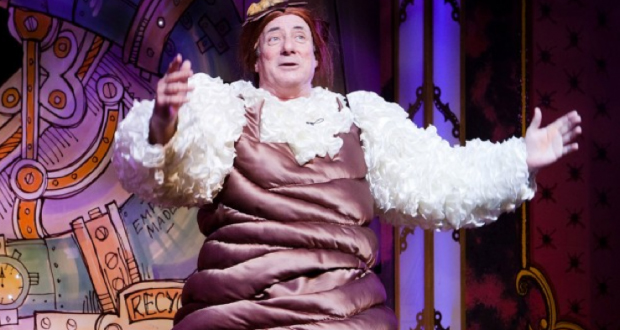 This week Ian Wolf witnesses a chicken in a leotard and a Geordie hero(ine) in York.
The Cow That Almost Missed Christmas
I can't say I'm fond of children's comedy. I'm probably the only comedy critic who isn't that fused on Horrible Histories, I don't watch CBBC and I've never watched CBeebies before in my life – until this week.
The Cow That Almost Missed Christmas, a one-off show on CBeebies, is a comic retelling of the nativity story. The story is told by animals in or visiting Bethlehem as Mary and Joseph arrive into town. Known that something big is happening around town, an excited cow called Marjorie (Isy Suttie) and her chicken friend Brian (Johnny Vegas) sneak away from their home to attend the 'big party'.
On first viewing, I tried to prevent my inner QI pedant from wanting to correct all the commonly held mistakes about the nativity story (the fact there wasn't a census; there were no animals present at the birth of Christ; there weren't three "kings" – they're wise men), but after getting all that under control, I really did enjoy it.
There's the visual humour – such as the sight of Brian the chicken wearing a leotard and a giant afro, and Mary's donkey playing cards while she is visited by the Archangel Gabriel – to the rather clever jokes. For example, the chickens insist their stable is a barn because it has both a manger and an outside loo. In another scene, Marjorie askes how far some weary travellers have come: "Rome? Alexandria? Milton Keynes?"
This may be on a small channel devoted to the under-fives, but The Cow That Almost Missed Christmas is a funny show that you can watch with everyone. Certainly worth a watch if you haven't seen it already.
Michael Grade's History of The Pantomime Dame
Michael Grade has recently become BBC Four's go-to-guy on all matters concerning variety theatre.
Having already given in-depth guides to the history of variety and the music hall, this Christmas he's covering panto, looking into the origins of the pantomime dame character. He traces its routes from Italian theatre, to its rise in popularity lead by the great clown Joseph Grimaldi.
However, what will be of interest to most people reading this, by which I mean comedy fans in the north, is that the biggest panto dame is from the region. Berwick Kaler is a Geordie, and has written and starred in every panto at York's Theatre Royal for 33 years. He keeps the scripts fresh and topical, but always starts with the same four words: "Me babbies, me bairns!" Watching his performances and devotion to the genre, you can't help but want to see him perform live, although demand for tickets would be so high the chances of doing so would probably be negligible.
This show was diverting, entertaining, and somewhat education. It certainly gave me a new application for an artform that I'm not that keen on personally. However it's good to see some peculiar British forms of entertainment still flourish.
From Ian and everyone at Giggle Beats, have a great Christmas.