Gigglebox Weekly #73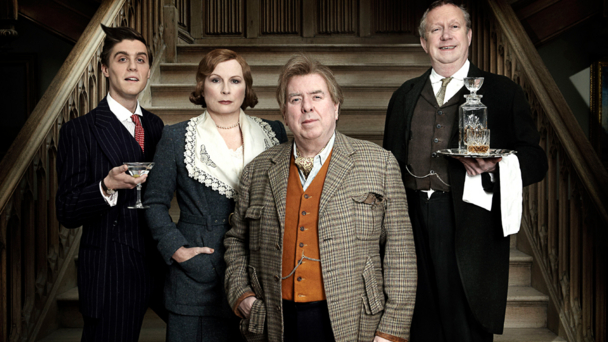 This week Ian Wolf watches a pig, Fry and Laurie selling tobacco and a candle dance.
Blandings
Blandings is a new comedy series adapted from a collection of novels by P.G. Wodehouse, but it's already attracted a wide range of criticism. Much of the vitriol targets the show's family-friendly, 6.30pm slot on a Sunday evening, but there's also criticism from die-hard Wodehouse fans who believe that any adaptation of his work is sacrilege. Hey ho.
The series follows the residents of Blandings Castle; Clarence (Timothy Spall), who just wants a quiet life – and to spend time with his beloved pig, the Empress; his sister Connie (Jennifer Saunders), who constantly interfering with other people's business; and Clarence's loyal butler Beach (Mark Williams) – all of whom are pestered by visits from Clarence's idiotic son Freddie (Jack Farthing). In the opening episode, Clarence tries to enter the Empress into a fattest-pig contest, but his pig man is put in jail by his main rival.
The first thing that came to me when watching Blandings is that Spall can play a toff better than I thought. His performance as Clarence was great, as is his delivery of Wodehouse's lines, like when he demonstrates how persuasive his late wife was: "She once put forth such a forceful case for beetroot I actually put some in my mouth."
I was a bit annoyed by the gimmicky use of comic sound effects, whether it be with Freddie's terrible driving or Connie's stormy demands. You can try to ignore it, but it gets a bit tedious after a while.
On the whole though, Blandings is an entertaining half-hour and a decent way to pass the time – although I still expect a few comments from fans trying to push his books into my hands.
Funny Business
This three-part documentary series, narrated by journalist Eddie Mair, looks at the 'darker', money-making side of the comedy world.
The first episode looks at how many comics, in particular stand-ups, make money by performing at corporates. It shows performances from The Real Variety Show where comics play in front of business people keen on booking them for events.
Then it follows the world of adverts, discussing comics like Mark Arden and Stephen Frost (who did ads for Carling Black Label) to QI creator John Lloyd (who first met Alan Davies when Lloyd directed ads for Abbey National.) I know there's a history of comics doing adverts – despite the public outrage at Mark Watson a few years back – but I was suprised at the frequency of appearances. Most of the ads were produced 'before my time' as it were, so were quite shocking in a way. Stephen Fry and Hugh Laurie advertising tobacco?
It's definitely a growing trend, though; if you're feeling bored, you can play a little game where you try to spot how many times in a three-minute period you can hear the voice of Hugh Dennis.
Off all the people on Funny Business, though, the most interesting was Rhod Gilbert. Rhod explained how one corporate gig resulted in him sacking them off altogether, and how he justified doing adverts for the Welsh tourist board because he was promoting a country rather than a product. There were also interesting contributions from Mark Thomas, who attacked just about any involvement of comedians and advertising. The only advertising I can think that he has been involved in was with early episodes of The Mark Thomas Comedy Product, which were sponsored by small independent shops – like a gentlemen's hairdressers and a record shop.
Funny Business declares that the problem with advertising is that there's no funny ads. I can't help but think the problem's that there are ads to start with.
Paddy's TV Guide
The words "Paddy McGuinness" send shivers down your spine – and not in a good way. McGuinness made his TV debut on Phoenix Nights, if you recall, and his career has been going from bad to worse ever since in the eyes of just about every reviewer and critic around.
Paddy's TV Guide follows a spate of cheap clip shows, with McGuinness presenting clips from TV shows (old and new) using a weekly theme. The first episode focused on health and fitness, with shows recorded on his "Paddy Player".
The clips themselves are mildly amusing, from an old exercise show featuring a woman dancing with candles to a tough American fitness instructor shouting at just about any mode of transport. But this programme, along with others like it (BBC One's Animal Antics for example)  illustrate what I think is the main problem with clip shows; the way they're presented.
If you have a show which is just about clips, from TV shows, the internet, or recorded by members of the public, then what you want to see is just those clips. You don't want to see Paddy McGuinness doing some small routine in-between them, or Matthew Crosby dressed up as a dog in the case of Animal Antics. All you need's a voice-over.
Harry Hill made You've Been Framed watchable. We all know it's the cheesiest programme around, but because Hill's contribution is minimal, the viewers get to see more of what they want, rather than putting up with Jeremy Beadle and Lisa Riley trying to be funny between the clips.
Of course, it could just be the fact that Hill's funnier than any of those people, and that's probably Paddy McGuinness' biggest flaw too; he's not much cop.