Gigglebox Weekly #77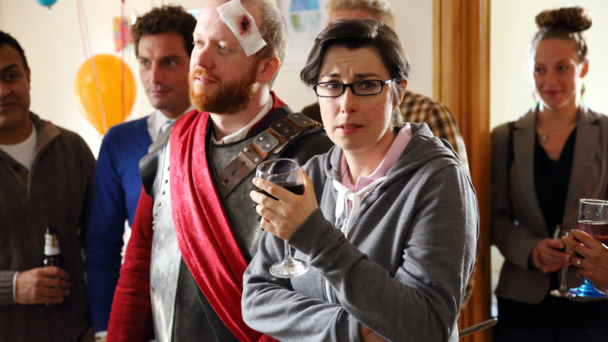 This week Ian Wolf encounters a cat called Mosley and the naughty cousin of a leprechaun – at exactly the same time (thank heavens for BBC iPlayer).
Heading Out
New to BBC Two, Sue Perkins stars in a new sitcom about a lesbian vet – although she herself has described it as not being a "gay sitcom".
Perkins plays Sara, who in the opening episode celebrates her 40th birthday. However, she has one major problem coming up: she's never told her parents that she's gay, making up bizarre-sounding boyfriends like a Frenchman who sells false legs. To make things worse, they're coming up to see her in a few weeks. As a result, for her birthday her parents decide to hire Sara a rather unorthodox (and to Sara an annoying) lifestyle coach called Toria (Joanna Scanlan), to give her the courage to finally come out. If Sara fails to do so, Toria's under instructions to tell Sara's parents herself.
This opening episode was very good. The first scene, in which Sara deals with a cat called Mosley owned by someone who seems to be keen on alternative therapies (Ella Kenion), is great. It gets better when she starts to put the cat down, only for the owner to change her mind half-way through. This leads to an even better scene starring Mark Heap as the undertaker at a pet crematorium, in a typically bonkers role that we are used to seeing him in. The laughs keep coming.
Much of the better comic moments are slightly skewed. It's not off-the-wall surrealism, it's just slightly odd, but in this case odd works well. Whether it's a scene involving a netball team doing a haka or the idea of a restaurant which tells you the name of the cow you are eating, it all seems to be working well.
And Sue's right – the fact the lead character's gay appears to be something just in the background. This series has potential, but the big test is still to come.
Alexander Armstrong's Big Ask
On at exactly the same time and on the same day as Heading Out, Dave's panel show Alexander Armstrong's Big Ask returned for a second series this week.
The format's pretty much the same as before. Alexander Armstrong presents and all three of his guests, in this case Jo Brand, Stephen Mangan and Tim Vine, have to come up with the questions everyone will be asking. Amongst the questions that came up included the subject of the clurichaun (the "leprechaun's naughty cousin"), why the Aztecs were such unsuccessful warriors, and Adam's first wife…who wasn't Eve.
It's a good show, and while the fact it's on Dave means it will never get a big audience (much of it taken away thanks to Perkins's show on the other side) it still deserves a watch because it can throw up some decent moments. One example was a tangent which involved Manga talking about his upcoming role in the film version of Postman Pat – speaking parts only mind, the singing being down by Gary Barlow.
However, perhaps the best thing about this new series is that the idea of the "fact bunker" with Dave Lamb verifying the information has been got rid of. It never worked and I'm glad to see the change made. In fact, I pointed out this was the weakest moment when I reviewed the first series last year. Giz a job, Dave.