Gigglebox Weekly #82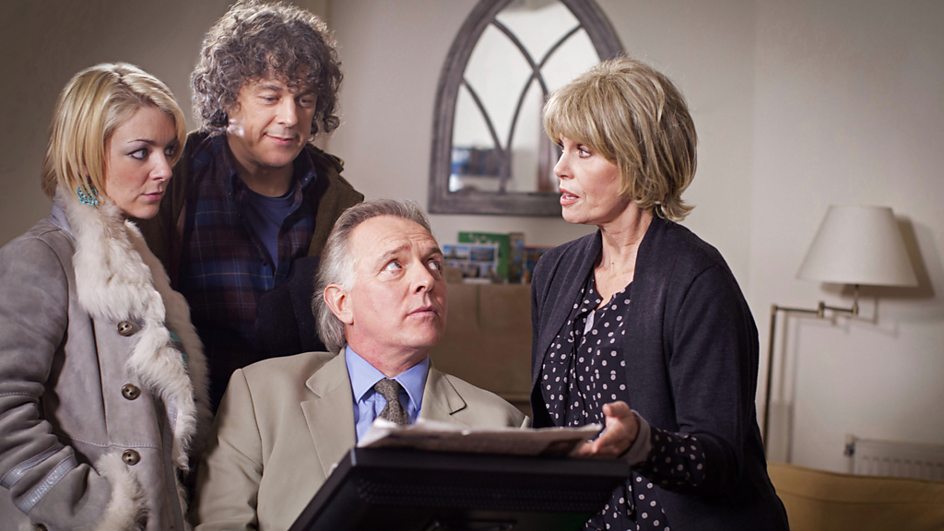 This week Ian Wolf watches an oddly-placed pair of footprints and a man who looked like a walnut.
Jonathan Creek
The comedy crime series Jonathan Creek returns for its first outing since 2010 and it's still as baffling as ever, although there have been a few changes…
The main change is that Creek (Alan Davies) has left the world of magic and his windmill home for an ordinary working life in an office, having married a lady called Polly (Sarah Alexander). While Polly goes away on a business trip, however, his sidekick Joey Ross (Sheridan Smith) tells Jonathan about a murder case involving an old friend's vanishing corpse in a locked room. Creek decides to dust off his duffle coat to take on the case – one that involves an old acquaintance of his: overbearing cop D.I. Gideon Pryke (Rik Mayall).
This episode had its ups and downs. I did feel myself giving a bit of a cheer when I saw Creek going through his wardrobe and pulling out his trademark duffle coat. The supporting cast performed well, although given that included the likes of Mayall, Joanna Lumley and Nigel Planer it's not surprising. What was surprising, however, is that given how energetic Mayall usually is it was interesting and refreshing to see him perform a role which demands almost no movement. There were some funny moments too, such as when Joey believes she has discovered a code, only to find out that Creek has solved it already. The way it's revealed was hilarious.
However, in terms of the case itself, there were some flaws in it. My brother was watching the episode as well, and remarked on one of the clues, which was a pair of footprints right up against a wall. The way the footprints were formed we by a pair of shoes being dropped from a high window and landing perfectly next to each other just in that spot. As my brother pointed out, surely the shoes would not have fallen straight to the ground, but tumbled as they fell.
So in this case, the performances as we good, but the writing could have been better. A new series is in the works so hopefully the show will return to form.
The Many Faces of Sid James
Another episode in The Many Faces of… strand on BBC Two, narrated by Sally Philips, focused on a comic actor famed for his laugh, his acting skill, and his rather wrinkled looks.
Broadcast to mark the 100th birthday of Sid James, which is in a few weeks, this documentary it has to be said didn't start well. This was nothing to do with James or the programme's production, but more to do with the fact that in the third cut-away you discovered that one of the talking heads featured in this programme was Chris Moyles.
But this aside, the other contributors, including Nigel Planer (busy week for him then) were good. There were also some rare outings of comedies now rarely seen such as Citizen James, which was basically Hancock's Half Hour without Tony Hancock, and looked like a decent show in its own right. There was also his straighter acting, which included appearances in a Quatermass film.
The Carry On films were the main area of covered, but for me the most interesting bit was the coverage of ITV sitcom Bless This House. I was unaware of how popular it was. It was one of the most watched comedies of its day, although this was helped by the fact that the show on the BBC at the same time was Panorama. This just goes to prove that what you really need to make a good sitcom is the right timing – not just good comic timing, but good scheduling too boot.