John Scott: Comedy in "sea of change"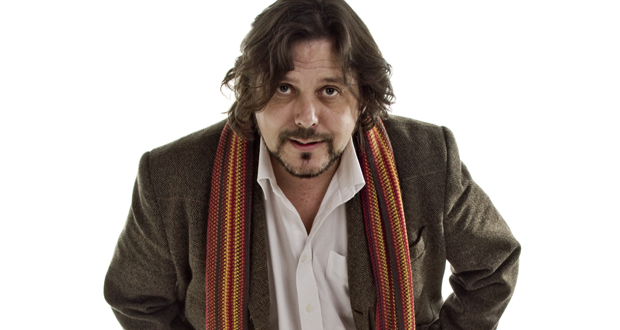 Comedian John Scott explains why he's releasing his Newcastle Stand show, Sod The Tories, as a comedy podcast next month.
[hr]

Sod The Tories (And Have a Nice Week) is a monthly topical panel show that myself and an ever changing variety of comics do at the Newcastle Stand on the last Monday of every month.
The show pretty much came about by accident.
I'd been putting up postings on Facebook about current news events and closed every post with the phrase, "Sod the Tories and have a nice week."
A promoter friend suggested it would be a great title for a topical comedy show and that set the ball rolling from there.
About a year back I did the BBC's Jesting About project, where we worked on developing a panel show.
At the time I didn't think such training would be of any use to me, then a year later I found myself putting together a format for my own panel show.
Where the show differs from what you may see on TV topical shows is that, because it's live, we can be a lot more hard edged with the subjects and subject matters we decide to approach.
Also, as well as the games panellists play, we have a guest interview slot dedicated to giving local voices of dissent a platform on which to air their views called Ask the Activist.
I now host the show and openly admit much of the comedy I bring to it sits to the left and – at its best – is pretty anarchic.
I despise this government and any Tory government that has gone before and I think that's fairly evident in what we've done so far. So I created a show that would be a platform to vent that anger.
However, saying that, I pretty much despise all three of the mainstream parties. None of them represent people anymore and seem to mainly function as transitory platforms on which the elite set out hollow policy before making their move into the big business of the city.
I'm releasing the show as a podcast because – having done the show live – I'm beginning to realise there's an audience and perhaps even a need for this type of comedy elsewhere.
I don't want to go down the now clichéd avenue of the middle-aged comic complaining that comedy has lost its direction and that too much stand up is of the everyman, anodyne, non-opinionated variety.
There is obviously a huge audience for this type of thing and who am I to say the nation has it wrong.
But I think a small sea of change is starting to happen.
Female comics who have shows relating to feminist issues have been doing great at this year's Edinburgh Fringe – so now may be a good time to put forward other shows that feature other such issues and social commentary.
The panel for the first podcast featured Seymour Mace, Tony Jameson, Vladimir McTavish and John Whale.
The following month's show features Andy Fury, Katherine Tanney, Cal Halbert and and again John Whale.
We've had both very experienced and very new comics in the show, and I can't thank everyone enough for the great work they have brought to Sod The Tories.
And I'd like to say a special thanks to John Whale, who beside myself, is the other permanent member of the troupe.
He has a big interest in satirical comedy and is a master of the art form.
He's also the one panellist who never adheres to the show's format, which in itself brings its own form of anarchy to the table.
The live show lasts about an hour and a half so we've whittled down the podcasts to each last about an hour.
We're hoping to have three recorded shows up on The Stand's website by September.
I'm also having a website built which will feature sketches, character monologues and the odd bit of stand up on which the show will take pride of place.
Once we have a place to host the show it will also be available on iTunes to download for free.
We're booked to do the show until October at The Stand but more shows will follow.
You can expect a new show every month.
And for as long as we're governed by self-aggrandising sociopaths (of whatever mainstream/fringe party) we can hopefully expect the show to run into the foreseeable future.
Sod the Tories – and have a nice week.