The Week in Comedy: Jonathan Winters, John Lloyd & Chris Ramsey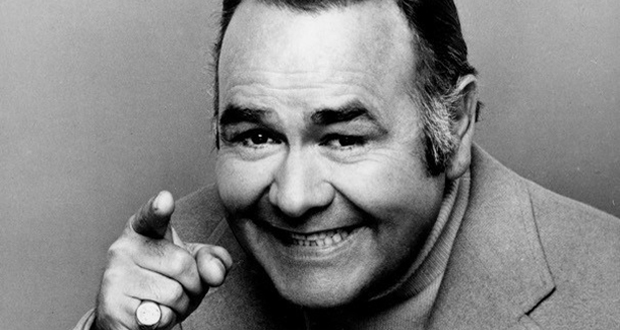 US comic Jonathan Winters has died, aged 87. Winters, perhaps best known for his breakneck, improvised comedy, inspired a generation of US comics, including Robin Williams and Jim Carrey. "Jonathan Winters was the worthy custodian of a sparkling and childish comedic genius. He did God's work. I was lucky 2 know him," Carrey tweeted on Friday.
Lee Mack is to host a new panel show for Sky1 called Duck Quacks Don't Echo. Sky have commissioned 14 hour-long episodes due to be broadcast later this year.
Stephen Fry is set for a return to the live comedy scene – for one night only. Fry is to appear at the Establishment Club, a London comedy club set up by Peter Cook in 1961. The QI star will be interviewed by Keith Allen in a tribute to Cook, who died in 1995.
Speaking of QI, its creator John Lloyd is taking a show to the Edinburgh Fringe this summer.  Lloyd, whose credits also include Spitting Image, Blackadder and The News Quiz, is to debut Liff of QI at the Underbelly Dairy Room every day of the festival.
Nick Banks, organiser of the 2013 Hadrian's Wall charity walk, has revealed the group have raised over £4200 for charity, with the sum expecting to rise to over £5000.
Mrs Brown's Boys creator Brendan O'Carroll has signed a book deal for a new release this autumn. Mrs Brown's Family Handbook is an illustrated hardback with tips on maintaining a household. In an interview with The Bookseller, editorial director Daniel Bunyard described O'Carroll as a "creative genius."
Following his BAFTA nomination for Chatty Man, Alan Carr has signed a new two-year deal with Channel 4. Chatty Man will now stay on air until at least 2015, while Carr is also said to be writing a sitcom pilot. He said: "I do like writing jokes. I don't see why I shouldn't write a sitcom. I'm a huge fan of them."
Sarah Millican has also been nominated for a BAFTA in the 2013 TV awards. She tweeted: "Thrilled to wake up to a BAFTA nomination. And in a category of entertainment Gods (@AlanCarr @grahnort @antanddec)*twirls around in nightie*"
Manchester comedy club The Frog and Bucket was forced to close on Thursday night – after a fire in a clothes shop a few doors down. Oldham Street and Spear Street are both shut, but shows went ahead as planned this weekend.
A quick mention for comedian, promoter and all-round good egg John Smith, who departed the North East for pastures new this week. Smith, who set up The Grinning Idiot Comedy Club in 2009, has returned to his old day-job in London – but he is still running gigs in Tynemouth and Gateshead.
On Tuesday Latitude Festival are announcing the remaining comedy acts to play this year's festival. We've had a sneak peak, and they're superb – a few of our favourites, with a nice mix of new blood. The full line-up for music and comedy will be revealed at 11.10am, live on Lauren Lavern's 6Music show.
Last but not least, here's a clip from backstage at Chris Ramsey's recent tour show in Chorley, where support act Carl Hutchinson has a surprise in store for the Hebburn lead:
Not quite The Blair Witch Project, I'm sure you'll agree, but frightful none the less…
For a daily dose of comedy news, follow us on Twitter: @GiggleBeats