Andrew Lawrence slams 'out of touch, smug TV comics' in astonishing rant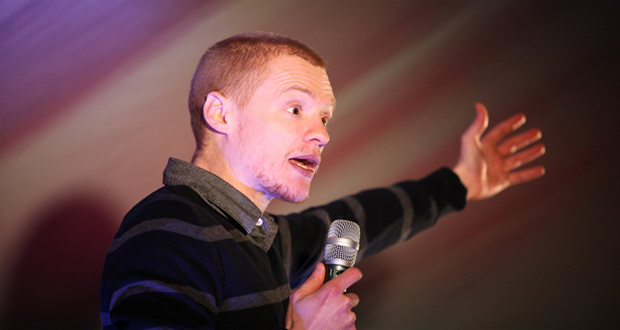 Andrew Lawrence has launched an astonishing attack on his fellow comics, taking aim at 'ethnic' and female comedians on TV panel shows.
In a post on the social media website Facebook, Lawrence – whose TV credits include Live At The Apollo,  Channel 4's Stand Up For The Week and Dave's One Night Stand – lampooned 'out of touch, smug, superannuated, overpaid TV comics with their cosy lives in their west-London ivory towers taking a supercilious, moralising tone, pandering to the ever-creeping militant political correctness of the BBC with their frankly surreal diversity targets.'
Lawrence then slammed 'moronic, liberal back-slapping on panel shows like Mock The Week where aging, balding, fat men, ethnic comedians and women-posing-as-comedians, sit congratulating themselves on how enlightened they are about the fact that UKIP are ridiculous and pathetic.'
READ: Our review of Lawrence's 2014 Fringe show, Reasons To Kill Yourself
The rant was part of a longer post on the social networking site about immigration and Nigel Farage's party which Lawrence took aim at 'hack, boring and lazy' comics who make jokes about UKIP.
Although Lawrence said that he is not a supporter of the controversial party, he 'can see why other people are, and I don't disrespect them for it.'
He added: 'The reason UKIP have resonated with voters is because all the other parties are too spineless to tackle the issue of immigration. Our elected representatives seeded [sic] control of the borders of this country to the EU and it's been catastrophic for us all, an unmitigated disaster.
'For every wonderful, welcome skilled worker our open borders bring into this country, there are also benefit tourists and criminals. For every person that comes here and contributes richly to our culture, there are those that refuse to assimilate, which breeds distrust and has led to a fractured, broken society, where people have lost all sense of community.'
The rant, which has proven to be a bit of a PR disaster for Lawrence, attracted widespread criticism from his fellow comics, including Mock The Week host Dara O'Briain.
O'Briain responded to Lawrence's post, tweeting: ''Hey Andrew, sorry I'm so aging, bald and fat, but as an an immigrant I'll retain my disdain for anti-immigrant politics.'
He went on to say: 'Weirdly, I worked with him a few times during the summer, and he never mentioned it. You'd think he would.'
Angela Barnes, who appeared on the most recent series of Mock The Week, wrote: 'Got a gig, time to pop a comedian disguise on. Can't believe they keep falling for it. I'm not a comedian, I'm a woman! Shh #andrewlawrence.'
While Josie Long added: 'Just to counter @andrewlawrence, you know, for balance. I don't think immigration is a problem, and I think women comedians are great.'