BBC unveils star-studded comedy line-up for the Edinburgh Fringe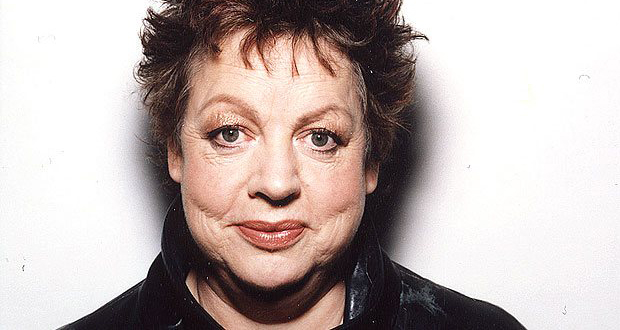 An eclectic mix of comedy names, including Jo Brand, Paul Merton, Rory Bremner, Imran Yusuf and Nish Kumar will star in the BBC's wide-ranging output at the Edinburgh Fringe this month.
Most of the content will come from the BBC's Festivals venue at Potterrow, where a host of acts will be on stage over three weeks from Friday 7 August, with more shows and events also taking place in other venues throughout the city.
BBC Scotland's Head of Programmes and Services, Donalda MacKinnon, said she believes this year's coverage should ensure that there is something for everyone, both in Edinburgh and for those listening and watching at home.
"The Edinburgh Festivals are always one of the highlights of my year and I'm delighted that the BBC plays its part in making it such a fantastic spectacle. I'm always amazed at the enormous range that our production teams from across the BBC offer in Edinburgh and our cast list this year really does educate, entertain and inform," she said.
Highlights this year include The One Show and BBC Breakfast live from Potterrow and TV specials, Edinburgh Nights with Kirsty Wark, and Sue Perkins' Big Night Out.
The BBC will also have live streams produced in partnership with the Edinburgh International Festival and Book Festival featuring interviews with Sylvie Guillem, Juliette Binoche, Simon McBurney, Jesse Jackson, Val McDermid and Nicola Sturgeon and Liz Lochhead.
Radio will bring a wide variety of content including Simon Mayo's Drivetime, the Radio 2 Arts and Saturday Breakfast shows, Jazz on 3, Late Junction, In Tune and World on 3 and the BBC SSO's performance at the opening concert of the 2015 EIF, conducted by Donald Runnicles, will be broadcast at a later date.
Radio 4 and 4 Extra output includes Front Row, Saturday Review, Just a Minute, Loose Ends; 5 Live and 6 Music bring Afternoon Edition and Shaun Keaveny while the Asian Network will also be in town with their Big Comedy Night, the Nihal show and the Tommy Sandhu breakfast show.
And, of course, Radio Scotland are always at the heart of the Edinburgh action with Kaye Adams and Janice Forsyth broadcasting their daily programmes live along with Breaking the News, Vic Galloway, Jazz House and Travelling Folk.
"Edinburgh in August is the best place in the world to discover new artists, performers and entertainers. It's a privilege for the BBC to bring our biggest and most extraordinary cultural festival to a wider audience," said the BBC's Director of Arts, Jonty Claypole.
TV
The One Show will be broadcast live from the heart of Edinburgh on BBC One at 7pm on Wednesday 12, Thursday 13 and Friday 14 August. Alex Jones, Matt Baker and on Friday, Patrick Kielty, will be joined at Potterrow by an array of established and up and coming guests.
The show continues every evening at 7.30pm on the Red Button with The One Show Edinburgh Showcase when Matt, Alex and Patrick will host a live mix of comedy highlighting some of the best and funniest acts at the Fringe.
On Friday 21 August BBC Breakfast will be live from the Potterrow Garden, where presenter Charlie Stayt will be joined by a host of acts from across the Edinburgh Festivals, including some early morning performances and sofa guests.
On BBC Two, Friday evenings will see Kirsty Wark present Edinburgh Nights, bringing interviews, performances and music from across the Festivals.
Wark will also investigate the discovery of lost scripts from the 1950s comedy programme Hancock's Half Hour, which were unearthed by actor and book dealer Neil Pearson, and are now being performed at this year's Edinburgh Festival Fringe.
BBC Two will bring a celebration of the festival on Saturday 29 August at 9pm. Recorded as live at Potterrow, Sue Perkins' Big Night Out will feature special guests and performance highlights from across this year's Edinburgh Festivals in a one hour cabaret of comedy and music.
Digital
BBC Arts will live stream a dozen shows from [email protected], from the likes of Simon Mayo, Anneka Rice, Janice Forsyth, Ed & Jason Byrne and Rory Bremner.
BBC Arts will also feature dozens of shorter films – drawn from the Edinburgh Fringe, Edinburgh Art Festival, Edinburgh International Festival and Edinburgh International Book Festival – and featuring the best and most entertaining talent in the city.
Radio
Kaye Adams brings her new BBC Radio Scotland programme to Potterrow on Monday-Thursday mornings.
Kaye will be talking to some of the biggest names at Edinburgh in front of a daily live audience and will be joined by a number of special guest co-hosts, including Scottish comedian Karen Dunbar and impressionist Rory Bremner.
Radio Scotland's new weekly comedy news panel game Breaking the News will be recorded at Potterrow in front of a live audience. Host Des Clarke will be joined by journalists and comedians to give a different perspective on the week's news.
Julia Sutherland introduces the comedians who dare to tackle cancer, terminal illness, euthanasia and soul crushing grief, and make it a little easier to talk about and cope with life's most difficult and challenging times, in A Funny Kind of Life… and Death.
The eclectic live music scene will be explored in special editions of Vic Galloway, The Jazz House and Travelling Folk.
BBC Radio 2
BBC Radio 2 will be broadcasting from the heart of the Edinburgh Festivals with Simon Mayo's Drivetime (Monday 17 – Thursday 20 August, 5-7pm), the Radio 2 Arts Show (Friday 14 August, 10pm-12am) and the Saturday Breakfast show (Saturday August 15, 6-8am) , both presented by Anneka Rice.
Throughout the week Simon will be chatting to a variety of guests including Bridget Christie, Ed Byrne and Marcus Brigstocke while live performances will come from West End star Shaun Escoffery, singer-songwriter Andreya Triana and The Proclaimers.
Plus, Simon is joined in the Radio 2 Book Club by authors Matt Haig, Joanne Harris and Paul Merton and there is a confession from 6 Music Breakfast host Shaun Keaveny.
BBC Radio 4 and 4 Extra
The panel from Saturday Review will be joined on Saturday 22 August by Ian Rankin to review a pick of The Best of The Fest.
There will be a whole host of well-loved comedy shows from Radio 4 including Just a Minute (with Nicholas Parsons and Paul Merton), Loose Ends, Dead Ringers (with Jon Culshaw and Jan Ravens), Sketchorama (with Isy Suttie and Gein's Family Giftshop), Mitch Benn Has Left The Building and Comic Fringes (Robert Florence, Dane Baptiste and Angela Barnes).
The best in new talent performing at this year's Fringe will be showcased on Radio 4's Fresh from the Fringe, which will also be available for audiences to watch live online, and on 4 Extra Stands Up with Fred MacAulay.
Radio 2 and Radio 4 Extra will be staging the first two heats of the BBC Radio New Comedy Award at Potterrow. The first heat is hosted by Phil Ellis (Funz and Gamez) with guest judge Angela Barnes, plus regular judges Steve Bennett from the comedy website Chortle and BBC Comedy's Sam Bryant, and the second heat is hosted by Susan Calman with guest judge Paul Sinha.
BBC Radio 6 Music
On BBC Radio 6 Music Shaun Keaveny will be broadcasting his breakfast show (7 – 10am) live from Edinburgh from Monday 17 – Friday 21 August, with a range of special guests including Jo Brand, Justin Moorhouse, Stewart Lee and Clive Anderson.
BBC Asian Network
The BBC Asian Network's Big Comedy Night featuring the best Asian talent from across the Festivals takes place at Potterrow on Sunday 23 August from 8.30pm – 10.30pm and will be hosted by Breakfast show presenter Tommy Sandhu.
It will include performances from comedians Imran Yusuf, Nish Kumar, Tez Ilyas and Sajeela Kershi.
The Tommy Sandhu breakfast show will also be live from Potterrow on Monday 24 August.
The Nihal show will also be broadcasting live from Edinburgh each weekday from Monday 10 – Friday 14 August, 10am-1pm, featuring a range of guests from across the Festivals, while Asian Network at the Edinburgh Fringe, 1 – 2pm on Sunday August 30, will feature all the highlights, with guests including Imran Yusuf and Nish Kumar.
Edinburgh Extras
Familiar names known to BBC audiences will present their picks of the most entertaining, interesting and curious comedy, music, theatre, cabaret acts and more. Highlights this year include BBC Presents… The Next Big Thing with Katherine Ryan and BBC Presents… Matt Forde and his Political Pals.
The BBC will also be bringing the Bright Club straight from the research field to the Fringe. Interesting, funny people share gags and silliness about what they know best – their own work.
BBC Children will also be bringing live stage shows to Potterrow including CBeebies favourite Swashbuckle and CBBC's Art Ninja featuring much loved characters such as Shaun the Sheep and Morph.