Mark Watson to undertake 27 hour gig for Comic Relief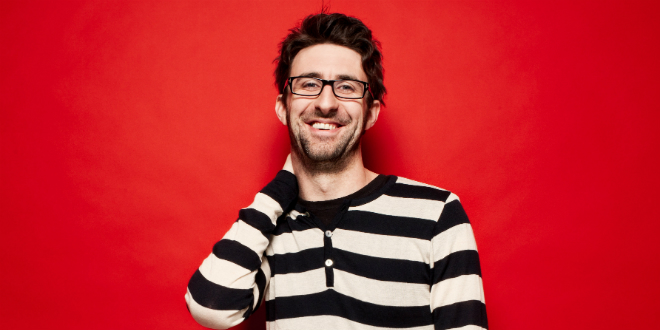 Mark Watson is to perform a stand-up marathon next year, in aid of Comic Relief.
Beginning at 9pm on February 27 2015, the comic will gig for 27 hours straight; one for each year since Comic Relief launched.
Famed for his marathon shows, Watson first undertook a comedy marathon for the charity in 2013, when he performed a 25 hour long show to mark its quarter centenary.
Held at The Pleasance, London, the show saw appearances from the likes of Rufus Hound, Tiernan Douieb, Adam Hills, and Tim Key, and raised over £60,000.
"They are my proudest accomplishments as a comedian," said Watson, "not necessarily because of the endurance aspect – which is more a gimmick than an actual achievement – but more because they've tended to be the best expression of what I think comedy should be like: a mad, excessive reaction to the incomprehensible business of being alive."
"You get things like Lauren Laverne hallucinating a dog, or someone having custard all over them, or a protracted (eventually successful) attempt to lure the Lord Mayor of Melbourne, or a blind date which ends up as a full-blown relationship… all difficult to accomplish in the shorter format. There are also jokes, by the way. Quite a lot. I mean, there's time for all sorts of stuff really."
Tickets are now on sale for the show, taking place once again at The Pleasance, London. The gig will also be streamed live in its entirety.
Ahead of next year's show, Watson is appealing for suggestions for activities that could fill his 27 hours on stage.
If you have an idea which could be incorporated into the show, email [email protected]. Remember, submitting a suggesting does not mean you have to take part, and performing a challenge in the show won't necessarily have to involve being on stage. A number of tickets will be held back for people who'd like to contribute to the live show.
(However, if you'd like to subject yourself to something amusingly unpleasant – last year one man watched Beverly Hills Chihuahua on loop for example – then all the better. Anything goes.)
"Even if you only think you're capable of getting about £4.50 in sponsorship, you may well find it's a lot more profitable than that," said Watson.
"And in any case, don't think in terms of raising millions of pounds. This show is meant to be a vast, ridiculous collective effort. Acts of ill-judged heroism are as much a part of it as money-making."
To find out more on how you can take part in Comic Relief 2015, visit the Comic Relief website.