New sci-fi comedy lands online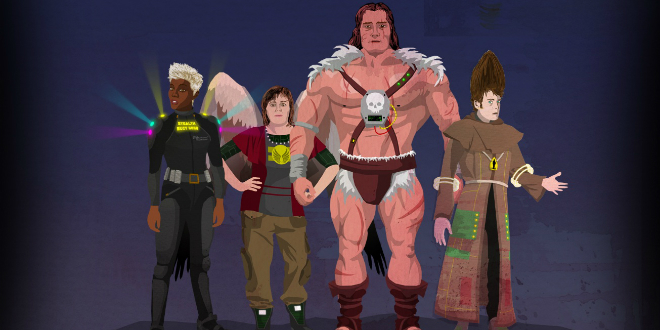 Online comedy producers Wildseed Comedy have unveiled their new original series.
Ship of Eagles, an animated sci-fi comedy created, written and directed by Joel Veitch and David Shute, can be viewed online from today.
Executive produced by Miles Bullough and Jesse Cleverly, the show is the latest series from Wildseed, who have previously pledged to launch a fresh, original series every month.
In Ship of Eagles' distant future, mankind has dispersed throughout the universe, and The Galactic Human Empire is ruled by a massive byzantine theocracy; a dense, ancient mess of rituals, dogma and bureaucracy, so old and complex that nobody really understands it all any more.
The show follows the fortunes of SARAH, a small-time crook, fleeing the authorities after selling a batch of dodgy codpieces. Forced along with her are an unlikely crew of reluctant rebels, caught up in the action against their will.
Backed in to a corner by the vicious regime, they reluctantly begin to build a resistance movement using only their wits and an inexhaustible supply of eagles.
Miles Bullough co-founder of Wildseed Comedy and Ship of Eagles' executive producer said: "Fresh, and truly original content is what viewers are after, and shows like Ship of Eagles have been designed to satisfy that need, allowing audiences to consume content when and where they want to."
"The show was conceived as an epic world that will make the best use of sci-fi animation to create huge space structures, intergalactic battles and alien worlds – all the really big stuff that's not possible through live action alone."
Commenting on the vision of Ship of Eagles, Jesse Cleverly, the show's executive producer and co-founder of Wildseed Comedy said: "Ship of Eagles is a rich and diverse world with strong characters, so we'd love to do more which will allow us take viewers on a journey with our intergalactic heroes as they uncover the true nature of space civilisation and the weakness of the Theocracy."
"The unrelenting growth of digital production and distribution platforms allows companies like Wildseed Comedy to fearlessly produce excellent shows like Ship of Eagles from a new generation of British comedy talent."
Watch Ship of Eagles here.