Tim Vine to play the Darlington Comedy Festival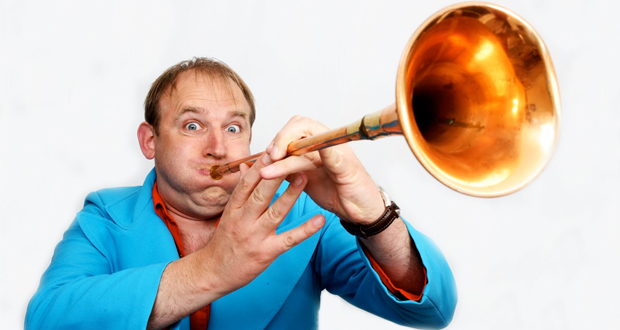 The 'Joke-amotive' Tim Vine is steamrollering his way to the North East next week – for the Darlington Comedy Festival.
Former Not Going Out star Vine has been lined up for the festival's charity gala at the Civic Theatre on Monday 1 July.
The showcase already boasts Hebburn star Jason Cook, Show Me The Funny winner Patrick Monahan, Gavin Webster, Silky, Rayguns Look Real Enough and Justin Moorhouse, who played Young Kenny in Phoenix Nights.
And now Vine will headline the show.
Festival organiser Neil Jollie said: "I'm really pleased that Tim has agreed to headline our charity gala.
"We set the bar high last year with Sarah Millican closing the show, and we were determined to get another top flight stand-up to headline this year."
"We're also really pleased with the rest of the line-up, and it's certain to be a great night to benefit some excellent charities," Jollie said.
The Butterwick Hospice, Darlington Association on Disability, St Teresa's Hospice and Daisy Chain will all benefit from the gala, which last year raised over £14000.
There are 18 shows at this year's Darlington Comedy Festival, three of which are free.
And just about every North East comedian heading to the 2013 Edinburgh Fringe is involved, including Sarah Millican, Pete Firman, Tony Jameson, Lost Voice Guy, Seymour Mace and Carl Hutchinson.
The festival will also feature a world-first: a Comedy Chat Roulette Show (Tuesday 23 July, The Forum), "where the comedians aren't just not in the same building, they're not even in the same town."
Hosted by Tony Jameson, mystery comedians will be broadcast on a big screen – from a coffee shop, a train station or even their own home – and they can interact with the audience via a web camera aimed at the crowd.
"Last year we had a lot of acts from around the country performing Edinburgh previews, but this year we've tried to broaden the programming whilst putting more focus on local acts," Jollie said.
"We're really pleased to be able to showcase local acts like Tony Jameson and Lee Ridley who will be taking their debut hours to Edinburgh, whilst also host shows by North East Edinburgh veterans like Gavin Webster and Seymour Mace.
"I'm probably most excited by the Comedy Chat Roulette show though – we've trialled the technology a couple of times, but it's going to be nerve-wracking on the night to see if everything works how we hope.
"The fact it's a world first obviously adds to the excitement, too!"
Tickets for Darlington Comedy Festival shows – including the comedy gala – are on sale now via the festival's website.