Victorian doctor sitcom coming to BBC Two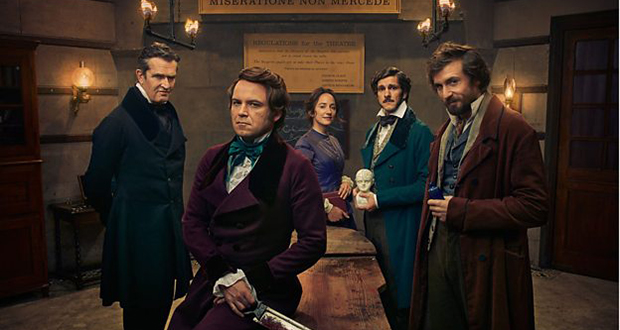 A new comedy set in the Victorian medical community is to air on BBC Two.
Written by James Wood, co-creator of the BAFTA award-winning comedy Rev, Quacks will follow the progress of four young medical pioneers fighting to make a mark on the world – beat their rivals – and save lives.
The programme will star Mathew Baynton as a fledgling psychiatrist, Rory Kinnear as an arrogant showman surgeon, Tom Basden as a hedonistic dentist turned anaesthetist, and Lydia Leonard as a headstrong social campaigner. Rupert Everett will also guest star during the series.
The 6×30 series is set in the 1840s, when medical science as we know it was still in its infancy, when doctors were just as likely to kill their patients as cure them, and when they experimented on themselves and each other.
The show explores an era of surgery when the operating theatre was just that: a theatre, full of spectacle and showmanship, where people would come to watch revolutionary procedures, or a surgeon try to beat his amputation speed record.
Controller of Comedy Commissioning for BBC TV Shane Allen said: "This is a dream comedy cast allied to a very dynamic period in British social history which lends itself well to raucous high adventure and inappropriate behaviour, all in the name of progress.
"We follow the often maverick doctors from one misguided cock-up to the next with the very occasional (and mostly accidental) success. It's a timely comedy flag in the often po-faced world of period settings."
Wood said: "Quacks is a comedy series about three colourful, energetic, young Victorian doctors who enjoy a lurid social life of drink, drugs, and complicated relationships. In other words, they're just like every other young doctor you've ever met. I couldn't be more excited about working with this incredible cast on a show set during a fascinating period of medical history."
The series will begin filming later this year.