Latitude review: Aisling Bea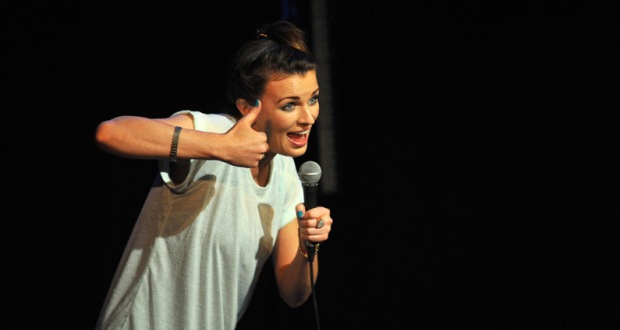 Aisling Bea is the victim of hate crime. Or so she feels, as an Irish woman having been booked to perform on an afternoon of twenty-something degree heat.
Being Irish provides the cornerstone of Bea's routine. More specifically, growing up in a area so rural she was often reduced to having lightning-quick conversations with passing tractors just to pass the time; which goes some way to explaining her fast-paced patter.
Bea is blessed with the gift of the gab, firing off asides as she rattles through her tales of chasing her dream of being an actress to the bright lights of London town.
Not every scattershot punch line lands, but her buoyant charm and rapid pace means the non-starters are soon forgotten.
With her overbearing mother hassling her about being "fat-thin", Bea recants a reluctant trip to a Zumba class.
The exercise-averse comedian may be a staple bit nowadays, but whipping out her "classically trained actress" skills, Bea's characterization of the over-zealous teacher is a joy to behold.
Bea's innate charisma and motor-mouth energy give a fresh turn to some potentially pedestrian material, but those aren't the only skills Bea is displaying this afternoon; her big finale sees her playing the noble, timeless instrument, the nose-flute, in a bit that's as silly as it is charming.
Date of live review: Sunday 20 July 2014 @ Henham Park, Suffolk.