Review: Good Timin', Live Theatre, Newcastle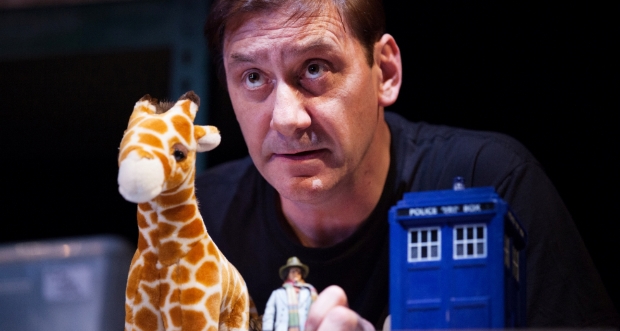 Ian Mclaughlin never knew his dad. Good Timin' is an exploration of the consequences of growing up without a fraternal unit, and the nature vs nurture debate.
Would they have got along? Do they have similar tastes? Would they bond in their fondness of Time Lords?
After describing his childhood in Washington, and his own difficulties in his twenties and thirties, it is not until McLaughlin – known as part of The Suggestibles improve group – reaches his fourth decade when we decides to actively find his father.
It must be emphasised here that, although categorised as 'theatre', Good Timin' would happily sit just as comfortably in the comedy section of any festival programme. The mix of pathos and humour is not a million miles away from the many Edinburgh hours – some which have collected awards – about their fathers.
Mclaughlin's script is enhanced by Max Roberts' (The Pitman Painters; Cooking with Elvis; Wet House) direction, and Amy Watts' clever design, which hides little clues around the set.
The use of multimedia is a nice touch too, with pictures of Ian as a boy, clips of a certain TV show, and a lovely interactive section with Ian as a boy, played by Finn Burridge in his first professional role, which sets up a little surprise in the show's closing moments.
Mclaughlin hopes to take Good Timin' on a short regional tour, and this cute little piece easily deserves a life once its run here at Live Theatre ends on Saturday. Actually, I think that this would transfer as well to Radio 4 as similar stories such as John Osborne's John Peel's Shed and The Newsagent's Window.
Good Timin' is a lovely little show; gentle, funny, and touching.
Good Timin' runs at the Live Theatre, Newcastle until Saturday 25 October 2014. Tickets are available from the theatre's website, in person at the box office, or by calling (0191) 232 1232.