Review: Sean Lock: Purple Van Man – Newcastle City Hall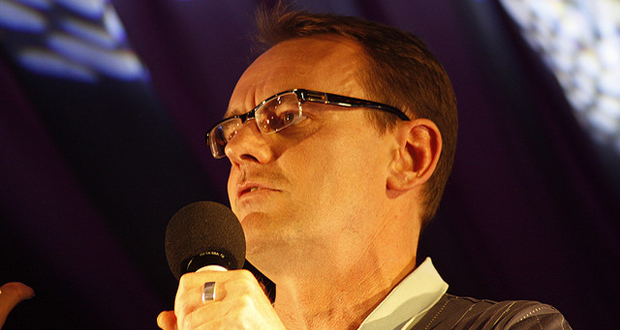 It is hard to imagine that there will be any punters leaving disappointed tonight, as Sean Lock caters for all tastes – a trademark quality of his mirrored by the diverse audience that has packed out the Newcastle City Hall.
Donning a dapper suit complete with a 'Britney Spears' style headset, Lock is the epitome of slick stand-up comedy, confidently guiding the audience through his array of material, from simple one-liners to bizarre fantasies.
Clearly, he has mastered the art of refining a show as his set flows at an ideal pace, only pausing periodically to mockingly endorse the brand of water that 'sponsor' him, Evian (which he notes is naive spelt backwards).
The title Purple Van Man certainly provides a very accurate and succinct summary of the performer on show tonight, who is characterised by his unrivalled ability to merge the 'ordinary bloke' persona and observational gags of a classic comedian with his distinctive brand of wicked surrealism.
Indeed, his supreme assuredness on stage is critical to the success of his show, with his lengthy visions of 'the world he'd like to live in' eventually conjuring some of the biggest laughs of the night, while untimely heckles are manipulated to his advantage with ease.
It is evident tonight that Lock's fearless approach to comedy, in terms of both content and style, has been pivotal to his success.
This propensity allows him to keep the audience on their toes as he moves effortlessly from playing to the crowd through the medium of Thatcher, to mimicking mythological creatures and discussing the potential implications of a 'paedo liquidiser'.
Lock's unpredictability is evidenced most patently at the opening of the second half in his most notable call back to an earlier joke – a surprise which goes down a treat and earns Lock a deservedly enthusiastic welcome back to the stage.
Tonight's show has been an exhibition of comic creativity and unblemished delivery, underpinned by an invaluable likeability that bolsters his most bold material.
Purple Van Man reinforces Lock's reputation as one of the nation's most talented all-round stand-up performers.
Date of live review: Friday 24 May 2013