Review: The Producers, Sunderland Empire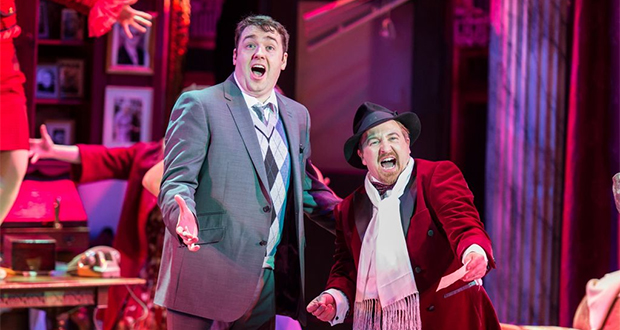 When you're greeted by a giant pigeon on opening night, it'd be fair to assume this is not going to be your average show at the theatre.
And The Producers really is a show like no other.
Throughout his illustrious career, comedy icon Mel Brooks has made marrying the light-heartedly satirical and the broadly ridiculous his trademark, and on stage tonight, this glorious union is in full force.
Brooks' manic tale of a washed-up Broadway producer and a timid accountant hatching a scheme to stage a catastrophic theatrical flop, had its first outing in the 1967 film, starring Zero Mostel and Gene Wilder. Since then it's popped up as a dismal remake, and a successful musical adaption, which is now embarking on its first UK tour.
Starring Corey English and Jason Manford in the lead roles, and featuring an experienced supporting cast including Phill Jupitus, The Producers touring show is a triumphant, hilarious romp through the fickle world of showbiz.
Skewering show business alongside fascism, The Producers takes the politically incorrect to glorious lengths with its good, old-fashioned charm offensive. Incredible physical performances, broad, puerile humour and dazzling satire run riot through a cavalcade of infuriatingly catchy show tunes.
Manford relishes his role as wet-blanket accountant Leo Bloom, utilising his stand-up's knack for timing alongside his surprisingly excellent singing voice. While not a carbon copy of Wilder's Bloom, Manford's is a warm and effective tribute, complete with frantic New York accent, and anxious doe eyes.
If anyone is running away with the show however, it's Corey English, whose diminutive, but thoroughly larger than life Max Bialystock is a scream. An outstanding psychical presence, English even takes to ad-libbing, and his final solo number is a thing of breathless beauty.
There is no weak link in this chain; from the inventive set design to the tightly choreographed dance numbers, with every member of the cast shining in their outrageously over-the-top roles, not a note, line or high-kick is wasted.
For every musical theatre ying, there is a comedic yang; a chorus line of randy grannies, a romantic number juxtaposed with bawdy mischief, and the biggest dance sequence of the show lead by a Liberace-esque incarnation of Hitler you'll ever lay eyes on.
The gags may be a product of their time, but they're hurled out with such vivacious energy and joy that it really doesn't matter; the only people who take a real ribbing here are the Nazis.
This is a show that despite its spectacle, and boy it is not short on spectacle, has its comedy at the front and centre.
Almost fifty years since its initial release, its angle on the notions of offence and delicate sensibilities still ring true; Bialystock and Bloom had the idea that the abhorrent could be a money spinning long before the papers began printing everything Katie Hopkins sicked up into her lap.
Although, you may be enjoying the erection gags and glittery dance numbers too much to really notice.
A wonderful, uplifting, outrageous bit of theatre, if you can sit through The Producers without a grin on your face, you're probably a war criminal.
Date of live review: Monday 11 May 2015
The Producers runs at Sunderland Empire until Saturday. For tickets, see atgtickets.com.