10 minutes with…Rob Gilroy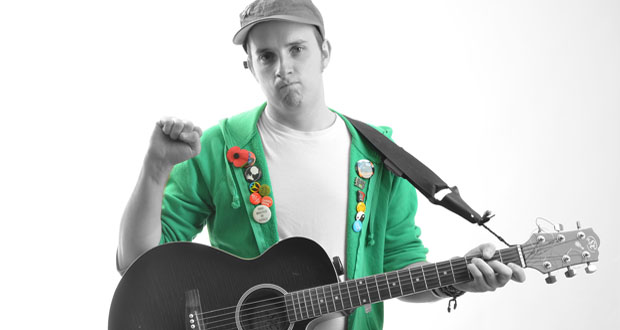 Rob Gilroy is a character comedian better known as Jerry Bucham. Protest singer and freelance activist Jerry plays Giggle Beats' comedy quiz night on Monday 4 November. Ahead of the quiz, Rob talks to Andrew Dipper about the highs and lows of stand-up, why he loves character comedy, working with Bob Mortimer on the BBC's Jesting About initiative, the voice of the Andrex puppy and more.
AD: Hi Rob. How did you get into comedy?
RG: I got into it at school, not like an NVQ or anything, but I would watch a lot of comedies endlessly; Monty Python, The Two Ronnies, The Goodies – programmes from that era. I was bowled over by the sheer silliness of it. That and the fact I like showing off led to myself and some friends putting on comedy nights as part of the unofficial drama club. We would perform sketches like Nudge, Nudge and The Two Ronnies' Mastermind sketch for an audience of about 4 parents.
After a while I got a bit bored of reciting old lines, so I started writing and performing my own sketches and characters – one of them being a very early version of Jerry Bucham. Eventually myself and two friends – Rob and Adam – set up a sketch group called Three Men and a Table. We kept that up for a few years, doing shows at school and local festivals. Once we started university it became harder to keep that up due to being so spread out, so I took some of the characters I'd done at school and started performing them on the Newcastle circuit.
AD: What has been your best experience in comedy so far?
RG: A couple of years ago I was very lucky to be accepted onto a BBC scheme called Jesting About. It offered me the chance to write and perform sketches for BBC Radio Newcastle with a load of other North East-based comics. We were mentored by the likes of Bob Mortimer, Ross Noble and producer Paul Jackson. It was my first real taste of being treated like a professional comic and I learnt an incredible amount. Since then I've been very fortunate to be able to write for some incredible Radio 4 shows as well as meet and work with some of my heroes.
AD: And your worst?
RG: It's hard to say, really. A bad gig is always a bit of a knock to the confidence but I try stay positive and take what I can from the experience, so that I'm always improving. That said, I once did a gig in Sunderland and I don't think they took too kindly to my "hilarious" protest songs. A guy in the audience spent most of the set shouting 'Just tell us a joke!' and afterwards tried to wall me up. But it's like I said at the time; "Dad, pull yourself together." (It wasn't really my dad. He left when I was very young.) (That is also a joke.)
AD: Why do you do character comedy?
RG: I don't know to be honest; it's just something I was attracted to, very early on. I like dressing up in costume – not in a kinky way – and playing colourful characters. I think it's partly down to my love of sketch comedy and sitcoms. I've always loved stand up but it was never really my first love. I grew up watching these richly funny characters and wanted to create my own.
A lot of people ask if it's because I'm nervous being me, and I suppose in some ways there's an element of truth to that. But I also believe it offers something a little different. You can say what you like about my act – and believe me; the man in Sunderland said it all – but hopefully it's still quite different. That's the dream anyway.
AD: Who are your comedy heroes?
RG: One of my big heroes is Steve Coogan – again, one of the main influences in doing character comedy – along with John Shuttleworth – but that said; Armando Iannucci, Peter Baynham and a lot of the Day to Day, Knowing Me, Knowing You… crowd have been hugely influential. The League of Gentlemen were a revelation when I was growing up. It was like another level of funny – woefully underrated, in my opinion.
With straight stand up it has to be Robin Ince and John Gordillo. I've been very lucky in that I've performed with John a couple of times and he is incredibly charismatic on stage. There is something about him that is fascinating; you hang onto his every word.
The same is true of Robin Ince, I've never gigged with him but I've seen him several times and the thing I love about him is his complete conviction in his material. Whether he's talking about Carl Sagan or the Hadron Collider – neither of which I'm clever enough to understand – you know you're watching stand up at its purest. That sounds a little naff, doesn't it?
AD: Not at all. You're playing the next Giggle Beats' quiz – tell us your favourite fact!

RG: The last words Walt Disney ever committed to paper were 'Kurt Russell'.
AD: We get lots of comedy anoraks coming to the quiz – what's your specialist subject?
RG: I wish I could say astrophysics or 18th century literature, but it's not. I have very narrow fields of interest, but within them I like to think I know a fair bit. I'm yet to see this round appear at a quiz, but I'm very good at recognising celebrity voiceovers on adverts. It won't save me if I'm stranded on a desert island – if I'm at death's door knowing that Rik Mayall once voiced the Andrex puppy is of no use to me – but it makes Saturday night TV fly by. 
AD: Finally, then, what can people expect from you at the quiz?
RG: They can expect Jerry Bucham, protest songs and a call to arms. But funnier than that sounds.
The Giggle Beats Comedy Quiz takes place every first Monday at The Hancock pub in Newcastle. Our next quiz is on 4 November and entry is £2. Click to join the Event. For more info, see our Quiz page.