Five questions for Lee Kyle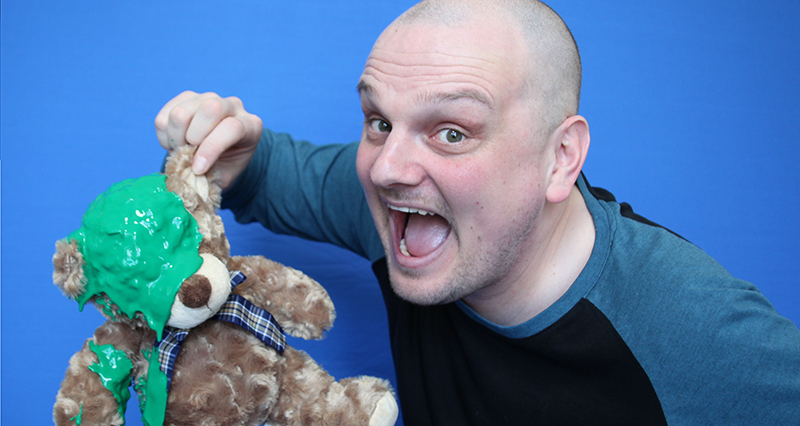 Geordie comedian Lee Kyle is bringing his critically-acclaimed kids' show, Gunge! A Show With Gunge In It!, to the Edinburgh Fringe later this week. Ahead of its two show run, we ask him five questions. 
Tell us about your show…
It's a game show. It's two teams of comedians and the losing team captain gets gunge thrown over them. It's for kids and adults, it's not one of them kids shows that adults would hate. It's really funny. I am aware that having Get Your Own Back at the Fringe this year has very much removed its USP. But, whatever, go and see the man off the telly all you want, just know that nostalgia is no substitute for what I have. A bucket, some gunge, a paddling pool and contact details for Matt Reed.
If you weren't a stand-up what would you be and why?
Maybe I'd still be wrestling? I hope not. Dead probably. Or working as a part-time caretaker still, despite having no ability to take care of a building. Or a chef. Admittedly, chef is a long shot as I'd have to learn to cook, develop a work ethic and want to be a chef. So, yeah, dead I expect.
What's the best and worst thing about being you?
I live near a beach and have a wife who is class and a son I am used to. I am uncomfortable in my own skin and presume that my company is a chore to almost everybody on Earth. Hang on, I should have said that the worst thing about me is that my show is too funny if anything. So that. That and the lack of ability to actually ever enjoy anything.
What do you get up to in Edinburgh when you're not on stage?
I miss home.
Describe your perfect Edinburgh Fringe…
It is tricky to envision a best case scenario really. Just that everyone thinks I'm great and nobody says "A kids show that adults like too? A bit like Phil Ellis'?" – and that it takes place in South Shields.
Lee Kyle: Gunge! A Show With Gunge In It!, Stand In The Square, Edinburgh, 16 August at 13:40, 17 August at 16:20, £8. Tickets.