Interview: Doc Brown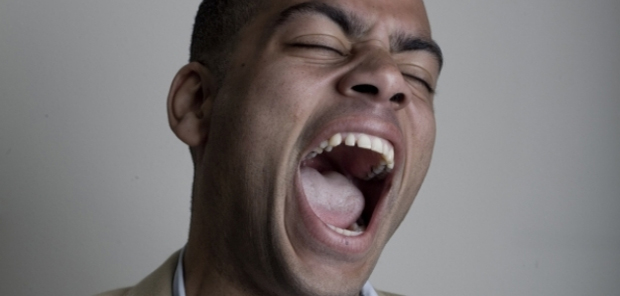 They say variety is the spice of life – but rapper-turned-comedian Doc Brown has taken it to a whole new level.
Brown (real-name Ben Bailey Smith) used to rap with Mark Ronson's band, The Business Intl. Then he realised his way with words could make people laugh too. Not content with pigeon-holing his career, Brown moved into acting, with appearances in The Inbetweeners and, more recently, Ricky Gervais' Derek.
His work with Gervais is well noted – their recent duet in Comic Relief spoof Equality Street has almost 3 million views on YouTube, and as he tells Giggle Beats, the pair are working on a new comedy drama together. "I'm working with Ricky regularly now."
Ahead of two shows at The Lowry in Manchester, Dan Carmichael sits down with Doc to talk Gervais, comedy writing and more.
DC: Hey Ben. First thing's first; I've just been watching your Equality Street 'duet' with Ricky Gervais. Talk us through how that came about and the writing process behind it…

DB:  It was great, man. We'd been scribbling ideas together for a while now, and we felt quite confident about this finished product. We were just excited to finally get it out there. We knew it was going to provoke some kind of a reaction, but seeing everyone on the shoot just laughing the whole time made us think, Y'know what, we have a little hit here. It was great fun, and shooting with Ricky [Gervais] is always really chilled…
Ricky and myself would meet up once a week to bring ideas together, as well as come up with concepts for songs. He would crack out the guitar and we'd throw lyrics at each other just to see what stuck.
With Derek it was slightly different because he actually built an episode around me, and I was involved from the very start. So from the blank page Ricky already had an idea on how he wanted the episode to go. A lot of my parts in that episode are completely improvised and there's actually only a handful that are written; it's quite crazy. Scenes with Karl Pilkington and the talking heads are all just Ricky saying, "Go for it."
DC: That must be quite freeing as a performer?
DB: It is. I work in TV a lot and it's usually never like that. They tell you it has be 'This, this, this and this' and to just get it done; there isn't much room for deviation. You don't experience as much joy in the rest of TV. It helps that Ricky is such a playful guy and comes up with a lot of jokes on the day. There's a lot of improv and a lot of just mucking around basically.
I'm well accustomed to working with Ricky now, and it's like being on set with a big child. He just loves entertaining and to be entertained. That infectious laugh that he has man; he's like that kid you might know from drama class.
DC: You've added a lot of strings to your bow over the course of your career. Writing, acting, stand-up, rapping… Do you think this level of variation is becoming more important in the comedy scene?
DB: No, not at all. I think the sensible thing would be to focus on one thing and be the best you can be at it. There is always that risk of spreading yourself too thin if you try to do too much. There are a number of things I turn down because I would rather focus on what I'm currently invested in.
The variety of my career happened quite organically actually. I started off as a rapper, and to be a rapper you need to have a sense of humour, writing ability and be able to paint pictures.  After I was done with the music industry I worked as a script consultant for a Radio 1 comedy show, which lead to me becoming a writer and editor within comedy.
After that I decided to meld comedy and rap together. Not because I thought it would be 'the next big thing' but because rap is what I know, it made sense to apply it to comedy. I started doing stand-up and from that I picked up the skills of acting by doing my little skits and sketches. That naturally led to acting within comedy and drama. I ended up transitioning through four different jobs: song writing, comedy writing, stand-up and acting.
I don't do them all because I want to be the king of all these things. It's really just been the natural progression from rap onwards. There are a few people like me who appear to do lots of different things just because they're greedy, but that's not it at all. Comedy just felt like a natural calling to me.
DC: That's really interesting. To a lot of people 'rapper turned comedian' still sounds like a massive leap to make…
DB: It does, but it really wasn't.  If you ask any rappers who their nearest kinship in entertainment is they'll say stand-ups. If you listen to a lot of rappers' lyrics, so many of them pinch little bits from stand-ups. Comedians can say things so succinctly and so brilliantly. In half a sentence they can convey an incredible amount of imagery and say so much. In the end, this is what rap is all about, trying to squeeze imagery into half a couplet.
DC: Any plans to settle down into one role?
DB: I think I would just get bored to be honest. Ask any human being if they want to stay in exactly the same job for thirty years they say "No!" The ultimate cliché, 'Variety is the spice of life', is sadly true.
If you work in a shop all day long – which I've done –you get that feeling of monotony with every day. But when the fire alarm goes off and you're all standing outside it just breaks up the shift. You end up reminiscing about that amazing day day when the fire alarm went off! Breaking up monotony is key to life and it doesn't matter whether I'm stacking shelves or writing songs, if I was doing the same thing every day I just couldn't take it.
I think I'll always be linked to comedy. There is something about it that's such a beautiful thing. The world of drama sneers at it because people assume that it's easy but it's not at all; it's incredibly difficult. Trying to be funny is one of the hardest things on the planet. I think that's tough for everyone. If you're just naturally funny it's a hell of a lot easier.
Dramatic actors can try to be funny but I'll tell you what; they're going to struggle against any comedic actors. Stand-ups conversely have an ability to do dramatic acting. Not all of them, but a good few have that ability to act straight because our lives as stand-ups can be quite depressing. It can on occasion be quite lonely. You really come to life on stage but outside – this is a bit of a sad clown cliché –there is that element of loneliness you get from travelling and being on the road. Stand-ups can bring a lot of that to a dramatic role and make it work for them.
In terms of a comedy plan I don't really have a list of what I want accomplish. I'm just riding the wave, man! I think I will always come back to stand-up and comedy in all its forms. I just don't think it will ever be the one sole thing I do. I'm known for that at the moment but before that I was known for rapping. Later down the line there might be people who know me for dramatic acting. It's all very exciting and fun to balance out. I feel like when I'm doing drama and screen writing I'm Ben Bailey Smith and when I do stand-up or rapping I'm Doc Brown. I'm not great at multitasking so knowing today is a 'Doc Brown day' helps a lot….
DC: Let's talk about your tour for a moment. What's the show about?
DB: Well my first show, Unfamous, was all about tiptoeing around celebrity in the rock n' roll word of the music business, and it was very autobiographical. This new show is untitled and is quite simply just my thoughts. Obviously there are certain themes I'll always touch on – like rap music, race and parenthood – but I'd like to think it's a relatively universal look on life as a young man. The previews I've done have gone down well, and I think it's a lot funnier than Unfamous. It's not quite as extreme as my first show. There is still a lot of pathos in this but nothing to the degree of having entire sections with no jokes purposely.
DC: Why'd you change it up then?
DB: I was fast-tracked in this game and had to construct an hour before I was really ready. Now after 5 years I know what's funny and how comedy works for me. I've found my voice and don't need to talk about just autobiographical things. I know how to turn my opinion onto matters that affect everyone, not just telling a story about a guy that came from the music business.
I'm going to round off this tour with a week in Edinburgh and just go for it. Just a week of huge shows and see what happens. Should be a lot of fun. I shall not be slumming it with the other comics this time though I'm afraid, the Caribbean is far more appealing…
DC: What's next in the pipeline for 'Doc Brown' and 'Ben Smith'?
DB: Well, I'm working with Ricky regularly now. We meet up once every couple of weeks and that will hopefully develop into something huge. We are both working on other projects so it's a matter of finding time when we are both free…
I can't talk too much about it but I'm also developing a comedy drama at the moment, which is going to be a very interesting vehicle; it's going to be something quite different. In the meantime, I'll be doing my little bits of stand-up and continue writing for the childrens' TV shows I work on. I'm being kept busy, that's for sure.
Doc Brown is at The Lowry, Manchester, on Saturday 6 April and Sunday 21 April. Click for Doc Brown tour dates.