Interview: Ken Dodd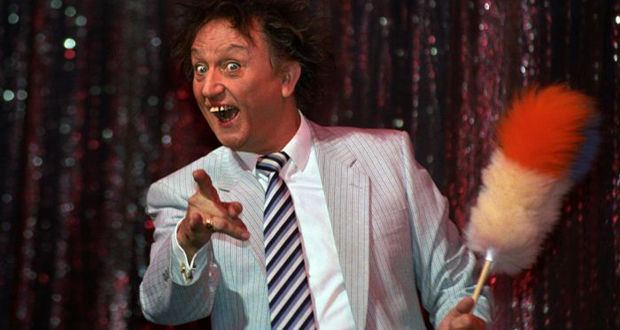 Ken Dodd's been tickling comedy fans for over 60 years now. On-stage and off he's seen it all, from Arthur Askey to Roy 'Chubby' Brown – though his routine, timeless as it is, rarely changes. "Through life you tend to gather jokes," says Ken. "A good joke is like a good friend. You never forget them." Radio Teesdale's Katey Wallace speaks to Dodd, now 85, about a life in show business, his history with the North East, and an encounter with Morecambe and Wise.
KW: Hey Ken. Next year's your sixtieth year in show business – what are you going to do? Are you going to have a big party?
KD: Hi Katey! You sound like you're in a good mood. 59 years? It's longer than that. 1954 I turned pro, but before that I done my apprenticeship around the clubs. They used to call me Ken 'Chubby' Dodd. He's a lovely man. Have you seen 'Chubby'? It makes your hair stand on end a bit, but he's a smashing fella – a lovely, warm-hearted man, really.
KW: Going back to the early days when you started in the variety halls, did you ever get a chance to work with the likes of Morecambe and Wise – the acts who, like yourself, have gone on to become comedy legends?
KD: Why yes! I did my first summer season with Morecambe and Wise on the central pier at Blackpool, 1955. I turned pro in the September before, and the following year I got my first real big break with the central pier. You see, people come to Blackpool from all over the British Isles, therefore when you play, say Sunderland, Middlesbrough, Newcastle, they've seen you before. You've done your audition and now you have to do the real show.
I'd come straight from playing all the hot pots, the dinners, the clubs and I was raring to go. I was just in my early 20s – everything was going for me, and I gave them a real good run for their money. In fact, Ernie Wise said to me one day, 'You're not here next year, are you?'
KW: That's a big compliment from Ernie. Hey, you're in Madame Tussauds – are Morecambe and Wise in Madame Tussauds?
KD: I don't know, are they? I think they've melted them down and turned them into Cannon and Ball. I had my first figure in Madame Tussauds in London in '65 and '67 – I was very hot, I had tears, two golden disks… I was in there. In those days they took a couple of photos of you and that was it. They were okay – about 80% accurate. But the new ones now – like the ones in Blackpool – they measure you, they use all kinds of devices on you. It's spooky. They're so lifelike it's like having a double of yourself. It makes you quite nervous, actually.
KW: What's your pose at Madame Tussauds, Ken?
KD: I'm not a dog… Just kidding, Katey. Your accent is lovely – the why ayes. On Merseyside we have a horrible accent. As you go further down to Hull their O sounds like an 'err', so they have signs that say: 'Nerr smerrking.' Accents and dialects are wonderful things because they're little trademarks. They make us different, and the world is a better place for being different.
KW: When was the last time you took a holiday?
KD: Oh, I go on lots of holidays. I love going to Whitley Bay. I'm coming again in August. The best fish and chips in the world. The fish you get, you see, is white. You're very lucky. The fish we get is grey. It's been around a bit, you know. I'm coming to Whitley Bay on the 28 and 29 August, but more importantly I'm coming to the Sunderland Empire in a couple of weeks – on Saturday 18 May!
It's not just me, though; it's a variety bill and we've got lots of wonderful acts. We've got Anne Dante, who's a very beautiful lady and a rather plain man. They play all sorts of beautiful instruments from all over the world – and the people who own these instruments are going mad. We've got a live band, proper musicians – half drunk.
KW: What's your history with Sunderland Empire then?
KD: Sunderland Empire was the first real theatre I played, and it's lovely to see that the powers that be have looked after it. It's a lovely theatre. They have lovely seats at the side – slipper seats – and it's the only theatre in Britain that's got them. You look after that Sunderland Empire. You're very lucky to have it. That's one of the great things about being an entertainer, you get to play lovely theatres like that.
The North East has such a great history of comics. Jimmy James, Dave Morris, 'The Little Waster' Bobby Thompson, Reg Thompson – all these comedians and comediennes. Ladies and gentlemen from the North East love to laugh, and that's a great thing, you know. They do love a good comic.
KW: Now, Mr Dodd, your shows tend to o-
KD: No! Don't you dare! I do not do long shows, I just give good value. We once did a big charity one once in a theatre and we did five and a half or six hours – something like that. Lots of people have done them, but this was all off the top of my head. No books. A lot of people tend to read them from somewhere, but…  Through life you tend to gather jokes. Like a lady likes diamonds and jewels – and I believe you're loaded – a comic collects gags. You know, a good old joke is like a good old friend; you never forget them.
Ken Dodd is at Sunderland Empire on Saturday 18 May. Click for tickets. And don't forget your sleeping bag.