Interview: Lee Hurst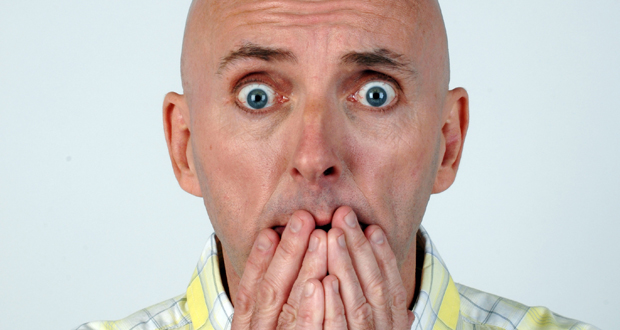 Lee Hurst is back and he's seriously hacked off.
Which is just as well, really, given that his new tour is entitled Things That Make You Go Aaarggh!!! and aims to discuss the stuff about this modern world that get right on both his and the audience's goat.
So, among the things that irritate him are political correctness (in his eyes, it certainly has gone mad), and the fact that the various ailments he's suffered and medical procedures he's undergone in the last decade or so have slowed him down so that "I run like an old man now."
And trying hard not to sound like the archetypal grumpy old man (he's not long into his fifties, after all), Hurst is aghast at the way technology appears to have dominated an entire generation's way of being.
"I don't have a mobile anymore, but I have a laptop at home. I use it as a news feed. I feel like I'm in a zombie film, where I'm the last person alive who doesn't have a mobile.
"When I got rid of my mobile, my friends went mental: 'how can we contact you?' 'Well, I have a landline.' 'But what if you're not in?' 'Then you can leave me a message.' And they went into more and more ridiculous scenarios to place me in as a way of trying to convince me that I should have a mobile."
Hurst does admit to being on Twitter and Facebook where he will put up jokes and have the occasional spleen-vent about the news, but he's having nothing to do with any internet trolls.
"I make a point of blocking anyone who slags me off or who disagrees with me about an issue. But it cracks me up to hear about people being bullied online: just block! I have no sympathy for them.
"If you are being bullied on the street for real, you can't move. Online, you can just block them and if they set up a new account, just block that. Simple. If only real life was like that, it would be brilliant."
Having spent much of the 21st century occupied with matters other than touring, Hurst is now on his third show in succession after Man V Woman in 2011, Too Scared To Leave The House the following year and now Things That Make You Go Aaarggh!!!.
For this trilogy he has settled on a format that keeps him excited to take a show on the road for several months by warming up his crowd in the opening half with some scripted stand-up before launching into a second half where literally anything can happen as he opens up his theme to the floor.
"What I learned from the last couple of tours was that by having the second half based around improv, I sustain myself much better throughout the whole run. This is a guess, but I think I'm slightly unique in that I worry less about the unknown than I do about the known.
"The second half is out of my hands, so why worry about it? I wouldn't even try to call myself an eternal optimist, but I just trust it will all be OK."
And as with many of life's finest plans, this one worked itself out completely by accident when Hurst lost all his notes about his Man V Woman show, possibly on a bus.
"It was a bit of a debacle but I was then forced to change it into something entirely different. I had stuff in my head but not enough to sustain it for a whole second half so I changed it to get the men in the audience writing something down about women and vice versa.
"I won't say it was a stroke of genius, it was a necessity, but it was so much fun and it continued to work well on the next show."
Given that Hurst started out in the comedy game when the concept of a stand-up comedian going on annual arena tours was unheard of, has done his fair share of panel shows (a stint on They Think It's All Over being his most high-profile TV work) and has seen many comics come and go, he is well placed to consider the state of the modern comedian.
"I won't bash young comics because we were all young once, but I have a feeling at the moment that there is a fast track process with comics and they don't do their time and their apprenticeship: many of those in their 40s and early 50s now are a different class. You just need to have a bit of life behind you and get some stage time in.
"Now, they're bringing through comics and instantly loading them up with writers. I'll always say that a writer-performer is better than a comic who is basically just acting out a script, with mechanical repetition."
No one could ever accuse Hurst of being a comedy robot: his stand-up comes straight from the art and has been crafted through years of toil.
"This might sound arrogant but it's born from confidence and experience: I'll go on at anybody's gig in front of their own audience and get more laughs than they will.
"When I started off, I would never dictate where I went on a bill: roll the dice and see where it falls. When a comic asks if they can go on in the middle, they are admitting to themself that they are not as good as they could be. I can get up there and rip an audience apart, I'll go on in front of anybody. By stating something like that, you are putting your neck on the block and it makes you work harder.
"One of the things I admire about the Americans is that they say they will achieve this, that and the other. British people say they will just try their best blah blah blah. Americans are talking about gold medals, British talk about personal best. Yeah? Who did you beat? You!"
Hurst has a clear idea of where he exists in the British comedy firmament? "Profile-wise, I'm incredibly low. Skill-set wise, I'm right up there at the top. What a diva! But then it's for other people to prove me wrong."
Lee Hurst: Things That Make You Go Aaarggh!!! comes to The Lowry in Salford on Sunday 30 March. Tickets are £18. Click for more information.