Interview: Reginald D Hunter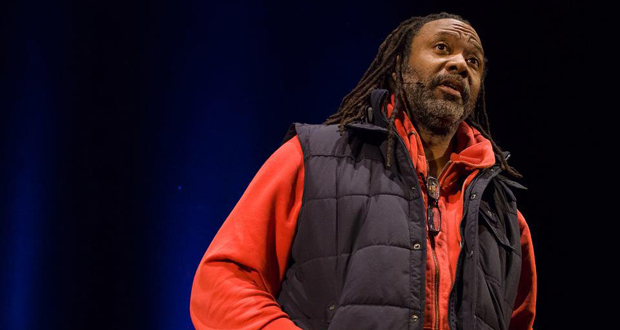 Reginald D Hunter is a guarded, polite and – on stage – delightfully-sweary Perrier Award nominated comedian from Albany, Georgia who candidly tackles issues of race and racism in his shows.  Here he talks to Hilary Wardle about his current tour, why he's never appeared on Mock The Week, and his recent spat with the Professional Footballer's Association, who complained after he used the N-word several times during his stand up set at their annual dinner.
HW: Hi Reg. First of all, how's your tour (In The Midst Of Crackers) going?
RDH: It's great, thanks. I've been treated very well. I'm just on my way to Sheffield at the moment.
HW: Is the show evolving as it goes along, or are you pretty happy with it as a finished article?
RDH: That's a very comedy literate question! Yeah, it's changing all the time, getting funnier hopefully.
HW: In The Midst of Crackers is a very interesting title. Are you using cracker in the sense of white people, or do you just keep a large number of Cornish wafers in your home?
RDH: The title has multiple meanings, it definitely doesn't have just one. Like all my shows, you'll have to come along and see it to find out.
HW: Will you be bringing it to the Fringe this year, or have you got something else up your sleeve for Edinburgh 2013?
RDH: Yep, I'll be coming up this year and doing the show there.
HW: And will you be doing anything else while you're up, any other appearances?
RDH: I have about 20-30 dates coming up between now and then so it's hard to say!
HW: Bet August feels like a long time away from where you're standing, or sitting, rather.
RDH: Yeah, a lifetime.
HW: You've talked before about the fact that British people seem to appreciate your style of humour more than an American audience would. Why do you think that is?
RDH: I think Americans get it, but they don't reward cleverness in the same way as British people. America is far more polarised than Britain is and so it's partly that and the fact America is a TV culture, it's hard for them to keep their attention on one thing for more than six minutes at a time.
HW: Where do you think you'd be if you'd stayed in Georgia? What do you think you'd be doing now?
RDH: I would be fat, I'd have several children with a fat woman and I'd be active in the church.
HW: You've lived in the UK since you were 27. Did you find it hard to find your feet in the UK or did you immediately feel like you'd found your spiritual home?
RDH: I don't think it was hard, it just required patience and some good old American optimism really helped. I just kept plugging away. At the end of the day, neurosurgery is hard, moving somewhere new isn't.
HW: I loved your 'Reg explains cricket' video for BBC Comedy in 2010. Are there any odd British practices you're planning to narrate in future?
RDH: (Laughs) Thanks very much. Yeah, that was years ago so I can pretty much confirm that was a one off.
HW: That's a shame. I'd love to see you bring your unique viewpoint to other weird British things, like the inexplicable popularity of Blackpool. More importantly, are you a bit fed up of people like me asking you about the differences between the UK and US given the fact you've been here so long?
RDH: It is one of the questions I'm asked a lot, sure, what can I say, the difference is constantly mentioned, journalists in particular seem particularly keen to bring it up.
HW: Do you think being a bit from the US helps you to stand out from the crowd?
RDH: Maybe for the first five minutes, but then you have to still deliver. You have to be good at what you do.
HW: Back in 2007 you said: "I often think if it wasn't for middle-class white people and their ability to be so easily offended, I wouldn't have a job." Do you still feel that way or would you prefer it if people would calm down a bit?
RDH: I'm always surprised and amazed that people find anything I do offensive. If they do, they haven't listened to me, if they're mad at you they haven't listened. They're being mad about a misunderstanding they've created. I said nigger at the PFA event, true. I did a very anti-racist set but they just heard the word. I said more than three words. They didn't pay attention, they just picked them out.
HW: Do you think that sort of kneejerk, out of context reaction is becoming more common? We've had Sachsgate in 2008 and several comments by Frankie Boyle on Mock the Week fuel what seems to be a big increase in people deciding to take offence at so called 'controversial' comedy. Why do you think that is?   
RDH: I'm a fan and a colleague of Frankie. Frankie goes looking for those people, I don't. Every time Frankie sits down, he's writing that kind of material. So maybe comedians are using it like that. People get upset about comedy and comedians but they just use words, no one is going to come and shoot your family.
HW: Speaking of Mock the Week, you've been on a few comedy panel shows in your time but MTW doesn't seem to be one of them. Do you just not fancy it or are you just waiting to be asked?
RDH: I haven't appeared on Mock the Week. People insist I have – they say, 'Hey, you were great on Mock the Week.' When I say I wasn't on it they won't take no for an answer. Maybe they're confusing me with another tall guy (laughs).
I haven't been asked recently but maybe I was long ago. I'd say it suits aggressive comics better than me.
HW: While we're on the subject of TV, you're a RADA trained actor. If you were to take up acting again, what TV show would you like a guest part in?
RDH: Hmm, maybe Aaron Sorkin's new drama, The Newsroom, that's pretty good.
HW: I personally think you'd be brilliant in Downton Abbey.
RDH: (Laughs) Or maybe Doctor Who. Yeah, that'd be good. I'd be 'Doctor What.'
Reginald D Hunter's In The Midst Of Crackers is currently touring theatres across the UK, including Newcastle, Carlisle, York, Leeds and Salford. Click for Reginald D Hunter tour dates.