Interview: Simon Donald
No rules, no clues, no questions. Fuckwits, the latest creation from Viz co-founder Simon Donald, is a gameshow with a difference. Puzzled? Giggle Beats chief Andrew Dipper caught up with the quizmaster himself to shed some light on his newest project at the Newcastle Stand.
"Fuckwits came about through my old mate from Viz, Alex Collier, pissing around with his Facebook account", says Donald. "He started to put blank crossword puzzles online and asked his friends to fill them in without any kind of clues. Everybody just twatted about and it ended up being hilarious, and also quite challenging. That shambolic idea is at the centre of the show, with some variations in the rounds."
Two stages separate host Donald from the 'contestants', who are then split into two teams themselves, each primed with a crossword folder and an insurmountable amount of dick jokes – and that's about as organised as it gets. At its heart, Fuckwits is an experimental show that relies more on quick-thinking comics and spontaneous fun than scripted material.
"Really, the idea is to give comedians a vehicle to argue with each other," he adds. "When they start intersecting that's when it gets interesting."
During the show, Donald advocates anarchy from his guests: both the audience members and comedians, a mix of established headliners and advanced local performers, are encouraged to shout out their own answers to his clueless puzzles. On the opening night at The Stand, Donald's brother Chris, who edited Viz until 1999, wastes no time chipping in as the word 'penis' is suggested: "That'll never fit in there!"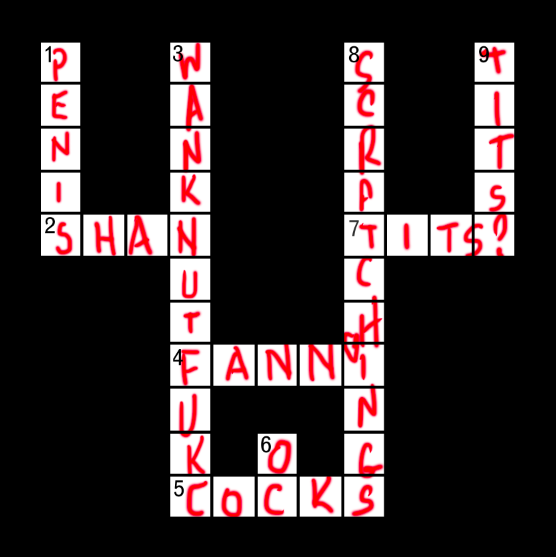 Alongside Fuckwits, Donald is already planning a new Edinburgh Fringe show. Simon Donald's School of Swearing is his latest idea, as he sets out to teach punters how to swear properly.
"The show goes right back to 2004, really. Me and Alex [Collier] were going to do an Edinburgh show together – we didn't know what we were going to do but we come up with the title Swearing is Both Big and Clever. We ended up turning it into the story of Viz, really, but the title hung around for years and Alex kept saying that I should do a show about swearing. Because it's what I've spent a lot of my life doing.
"With the new show I've gone into something that I have a lot to say about and I've thrown in other stuff that I've learnt along the way. I start off with a dance routine to a tune I've written, because I learnt to dance for a charity event, then I'm going to teach the audience the values of swearing, how you can use swearing, how dangerous swearing is and some of the history of swearing."
There's also a celebrity swears section, where "nine stars of film, television and the international drugs trade" appear on a video screen. Sarah Millican, Shappi Khorsandi, Stewart Lee, Richard Herring, Howard Marks, Terry Jones (of Monty Python fame) and Rick Wakeman have all signed up so far, with two yet to be confirmed. During the show, the audience are asked to select their favourite star and that celebrity will tell you their favourite swearword. "I'll then perform a routine around that word," adds Donald. "I'm really looking forward to getting up there."
As we continue to chat, it becomes clear that Donald holds The Stand in high regard. How does he feel the club has impacted on North East comedy, then?
"The whole vibe in the North East has been lifted by the arrival at The Stand," says Donald. "If you speak to the comics, even the ones who are in direct competition up here, they will tell you that The Stand is the best thing to have happened to comedy in Newcastle.
"They believe in comedy and they allow you to experiment. Before The Stand arrived I wouldn't have been able to put a night on like this. I would've had to put it on myself in a room somewhere; but they have faith in comics. It's the type of place where hopefully my character comedy will go down really well."
Donald is certainly an interesting character himself. After leaving his role as co-editor of Viz in 2003, he found himself searching for a new project to fulfil his creative needs. In 2004, he and Collier wrote The Regionnaires, a six part panel show broadcast on ITV Tyne Tees: "It was very successful but only lasted for six episodes because ITV sold their studio off and moved into a shed in Gateshead." They then produced Swearing is Both Big and Clever together in 2005 before going their separate ways. Collier trained as an animator, while Donald briefly managed North East band Hungover Stuntmen.
However in 2008 his eldest brother Steve was diagnosed with cancer and Donald was forced to re-evaluate his options: "I lived with my brother and was his carer. When he died I thought to myself, 'I need to make a decision here about what I'm doing with my life.'
"Viz wasn't really what I wanted to do when I was a kid. I initially wanted to do a television sketch show, and when I was thirteen years old I started writing sketches with a friend of mine called Gordon. Maybe even younger than that. I became a singer in a band, too. For some reason, me, Chris and Steve were all drawn to entertainment. I could've just stuck with Viz and continued with that, but it just wasn't what I wanted to do. The success of Viz gave me an opportunity to choose another career path, and I'm very lucky because not a lot of people can do that. When Steve died that was when I decided to devote myself to stand-up comedy. Sometimes I do wonder why, but it's what I enjoy doing most."
Nine years after leaving Viz, then, Donald continues his transition from the page to the stage. Like all good stand-ups, he recognises his weaknesses – namely the inflexible medium of character comedy: "outside of the North East some people think it's brilliant, others don't get it." Yet under his many layers of disguise, Donald's creative streak remains resolute; and, with a residency at the Newcastle Stand, him off the Viz may well have found a new room on Tyneside from which to let loose his captivating comic imagination.
Tits oot for Simon Donald.
Fuckwits resumes at the Newcastle Stand on Tuesday 12th June. For tickets, see: http://thestand.co.uk/listings.aspx