Pat looks forward to Teesside homecoming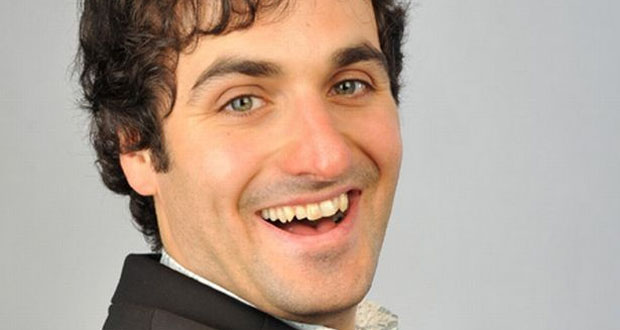 He's already played an incredible 180 gigs all over the world so far this year – but Teesside funnyman Patrick Monahan still reckons his homecoming gig at Middlesbrough Town Hall Crypt on Saturday 13 June is going to be his favourite night of the year.
"It's been a hectic year so far," said Patrick, who grew up in Redcar & Stokesley. "I started off playing seven gigs around London on New Year's Eve and it's just cracked on from there."
Being busy comes naturally for Patrick, who won ITV's Show Me The Funny in 2011.
Always a popular figure on the comedy circuit, last year saw him hit the small screen again when he appeared alongside the legendary Dame Edna Everage on Celebrity Squares.
And now he's looking forward to ending his current tour back on Teesside.
"It's the last date of the tour, and the best as far as I'm concerned," said Patrick. "It's great to finish up at the Town Hall, and we always end up with loads of people back round a friend's house to help make a real night of it. Cooking and chatting long into the night."
Patrick's show Adventures in Monahan Land is exactly what it says on the tin.
"The show is packed with tales of everything from growing up on Teesside to stories from my travels on the road," said Patrick.
"There's some great tips on how to blag your way into a house party, and plenty of new stuff about things that have happened on my travels already this year. And dancing. You can expect plenty of dancing."
It's a show for all the family, and Patrick finds that his Teesside stories travel well all over the world – including the far-flung hotspots of Egypt, Turkey, Dubai, Bahrain and Costa Rica.
"It's going to be very family friendly as ever," said Patrick. "It's great for adults obviously, but parents who fancy bringing their 14 or 15 year olds can also have a top night out and save a fortune a babysitters!
"And I love the fact that I can play anywhere in the world, talk about Redcar, Boro, Stockton or anywhere else on Teesside and it always goes down a storm.
"You mention where you're from and it's all 'Juninho, Juninho' – it's the first thing you hear and it all cracks on from there.
"So, yeah, it's great to be able to play all over the world, but I can't wait to be back on home turf."
Patrick Monahan: Adventures in Monahan Land, Middlesbrough Town Hall Crypt, Saturday 13 June, 8pm, £14.00/£12.00 concs, middlesbroughtownhallonline.co.uk