Paul Tonkinson: "I'm quite an unsexy sell, really: I'm just an old fucker trying to get better…"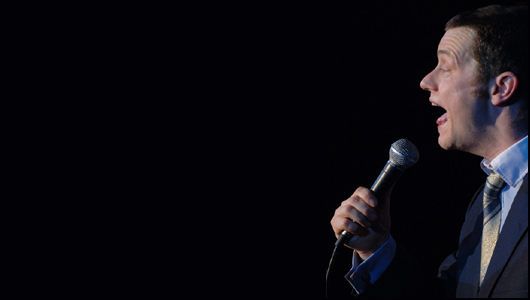 After 20 years in comedy, you could say Paul Tonkinson [pictured] has become part of the furniture on the club circuit. Hosting The Big Breakfast Show and presenting the odd radio piece provided a pleasant change of pace, but as Tonkinson tells Dan Carmichael, he always knew he would return to his first love, stand-up. In the midst of his first (official) national tour, Paul takes a quick time out to chat with Giggle Beats about his comedy plan, working with Michael McIntyre and his latest sitcom idea…
DC: Hello Paul! How's the tour been going so far?
PT: It's been going really well. I've done long gigs before and I've done 'mini' tours before but this is the first proper one I've done, so I'm just getting used to that change really. Before you tour people tell you 'touring is different because people pay to see you so you can do what you want'. I was always a bit apprehensive about that but when you do play I realised I could relax a lot more and the whole thing felt more natural.
I have enjoyed settling down into a more relaxed way of being funny with my show as apposed to doing that twenty-minute thing on the circuit. It's inherently a bit competitive there because you're usually on the bill with other acts and you're reacting to their subject matter and temperament. It's just better when you get to set your own agenda and topics – I've been enjoying this process a lot more.
DC: Tell me a bit about Fancy Man then…
PT: It's a combination of new stuff, old stuff and things I may have just thought up on the way to the venue. It's straight stand-up really. There are a few small themes developing to do with getting older, and being from Yorkshire, and how these affects your life – but it's not themed as such. It's just me trying to be as funny as possible over two sets. I'd like to think it feels quite muscular and physical with a lot of high energy; I'm going hard for the laughs in this.
DC: How did the show take shape? I'm always interested to hear about writing processes…
PT: I write down every funny thought on my mobile as I go around and then try it out on crowds to see if it feels real to me. I like to have material that I look at and just really want to share with people. I want to feel an urgency and validity behind what I say – that's what I'm ultimately looking for. I might walk through it in my room to test it out but it always changes in the performance. After that I just continue to hone it in front of crowds.
Sometimes you can be doing a piece of material for years and still find something new in it, so that's where the old and new come together in this show. I would say this time around 60% is new and the rest is stuff that I've reframed and put a slightly different spin on. I also try to constantly be aware of when a topic feels 'done' and then I'll drop it.
DC: I hope you don't mind me saying that you've 'been around the block' so to speak – did you feel any pressure going into this tour?
PT: Well, to be honest, not really because I've gathered so much material and experience over the years that it's made me totally at ease doing it. I've worked a fair bit with Michael McIntyre by helping him get ready for his shows, and I've learned a lot from that. He really taught me a lot about structure and the general process of making a show. I've been applying what I took from that experience to my new show.
I've never really had a problem with material, and I found constructing the two forty-minute halves quite easy actually! It's never felt difficult or a stretch. The biggest thing that I learnt from Michael is the idea of not being indulgent and to simply focus on going for the laughs. It's a discipline I've taken to heart and try to stick to at all times.
I tried to make sure both halves of my show were as good as each other. My first half had to be just as strong as the close because I figured out that I'm already being reviewed after the first twenty minutes! People will be at the bar already discussing what they've seen. Sticking to a structure can end up making the start of a show very heavy on just chatting to the crowd and I didn't necessarily want to go too far down that road. I still think it's important to make the crowd looser, but I'm more concerned with hitting that first half running and then up my game again in the second half. Having that attitude has helped elevate the show a lot hopefully.
DC: You've said comedy has always been your first love, was it something you knew you'd always end up coming back to? Even during things like The Big Breakfast?
PT: Yeah it was! I started off doing stand-up and then ended up getting side-tracked by that other stuff. It was all good experience and actually gave me a psychological rest from stand-up as well. Being a comedian is fantastic – obviously – but it can be quite hard due to its solitary nature. You get a lot of time on your own driving to and from gigs so it was nice to work in a team and feel part of something bigger than myself.
I especially enjoyed radio work because it's very honest and I really took pleasure in engaging with the public at large. Television I didn't enjoy quite as much in terms of presenting just because you don't have as much freedom as you do with radio. I always knew I was going to come back to stand-up. Even when I was doing those things I tried to maintain stand-up on the side as much as I could.
DC: Would you say you prefer playing closer to home or have some locations surprised you?
PT: Well I haven't played the North yet and I'm really looking forward to starting that leg of the tour. I'm from Yorkshire so I'm really looking forward to playing there and my hometown of Scarborough. I've found myself having surprisingly good gigs at places I didn't expect, like Maidenhead and Tunbridge Wells. It's those nice crowds that are the complete antithesis to the slightly aggressive atmosphere you sometimes get in clubs.
I really enjoy the gigs up North because they are just something you instinctively understand and being from the North saves you in ways you don't realise until you go back.
DC: Maybe the audience has your back a bit more when you're a Northern lad?
PT: Yeah there is definitely a little bit of that. There seems to be a shared attitude with Northern gigs where they look for pure honesty – they don't want any unnecessary pretention. They want you to be in there with them.
DC: Have you found comedy tastes differ much around the country?
PT: Despite what I said about the North, I don't think they do much to be honest. Crowds can always be a little bit different, but as a comic it's my job to play each one differently. So when I'm in Tunbridge Wells I'm aware they're going to be slightly posher and maybe slightly nicer so I just talk to them about that. That's the key I use to unlock that door. My ideal is having a great gig wherever I am.
When I do places like Blackburn I'll talk about being scared walking across the square in front of the venue! You just talk about honest things and I try to reflect people's lives back at them in a way that makes it funny and real.
Every town is a bit different: Birmingham always feels dead relaxed, Liverpool you always have to explain you're not from 'round here'. Towns like Newcastle and Leeds have a more distinctive flavour and you've just got to be curious about them and ask questions.
DC: You mentioned working with Michael McIntyre earlier, and obviously you've been continuing the club work on the side. How would you say you're progressing with your comedy plan?
PT: Well actually…I don't really have a comedy plan! I'm very much the sort of guy that is focused on a 'wife and kids' plan above anything else. I've been doing stand-up for nearly twenty years and I absolutely love it, so I guess the 'plan' is to keep it alive and do it for as long as I can walk! The great thing about stand-up is that it's possible to do that so long as you retain interest in doing it.
However, my lack of real plan means that I won't be doing Edinburgh for a few years because we do family things like summer holidays! To me, that's just more enjoyable at this stage in my life. That's not to say I don't want to tour anymore as a comic. I'm an example of a guy that's touring but not doing Edinburgh. My ideal is to keep touring and to continue side projects like writing for Runner's World Magazine.
When you've been knocking about as long as I have you're a bit of a known quantity at this point. I'm quite an unsexy sell really: I'm not new, I'm not young, I'm just an old fucker trying to get better and that's no story really. I've done stand-up on TV and I'd like to do more, but that's not really in my hands. My goal is to make the experience of watching me more memorable constantly. Always be funnier and try to rinse the rooms that I'm in. Simply doing this job gives me everything in itself and that is enough for me.
I've had times when I've been on TV and times when I haven't, but I'm always very philosophical about it and above all else, grateful. The fact is, the UK stand-up circuit is the best in the world. People come here from all over the world to make a really good living and I am doing that. I'm very aware of how lucky I am. It's not like I'm going to start moaning and say, 'I fucking hate it!' We all love it and I think most comics are quite philosophical about it all.
DC: Finally, then, anything exciting in the pipeline after the tour is over?
PT: There are lots of creative things I want to keep developing. Baby Cow [Productions] and myself are still developing our sitcom idea and are currently trying to sell it. I'm also going to work on developing other projects along the way. Moving away from stand-up, I've always been very interested in long distance running, so I'd like to one day write a book about that too. The main thing, though, is that I'm going to continue working on stand-up and preparing for my next tour. At the moment it's really nice; I'm doing lots of different gigs and I'm liking the variety. It's brilliant.
Paul Tonkinson is touring Fancy Man at venues across the UK until April 2013. For details, see: paultonkinson.com