Profile: Neil Grainger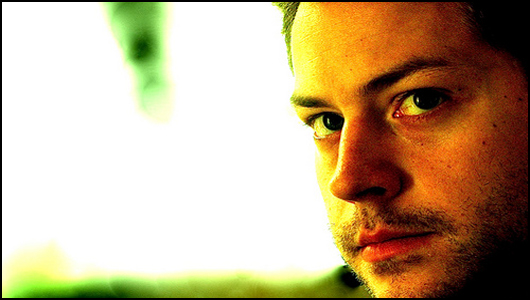 As far as Neil Grainger is concerned, he is the luckiest man alive.
On New Year's Eve 2011, he went down to his local pub with girlfriend Zoe, slightly despondent that Hebburn, a TV pilot he'd taken part in two months earlier, looked dead in the water.
The pilot itself, written by comedian Jason Cook, couldn't have gone any better. One of six shows presented at the Salford Sitcom Showcase last October – including BBC One's contentious Asian sitcom Citizen Khan – Hebburn was dubbed an affectionate tale of North East family life. Grainger, a 'serious' actor by trade, played the character of Gervaise, a slimy yet somehow charming pub-singer from Hebburn – and love interest to Vicki Pearson. Think Jerry St. Clair, with a dash of David Brent.
"The Salford Sitcom Showcase was just an amazing experience," says Grainger. "We had such a good time, but at the same time we didn't want to get too excited; because in hindsight we were all very afraid about how much the show could change if it got commissioned – and whether we'd still be a part of that."
A week later, Citizen Khan was given the green light for a full series on BBC One, and the excitement faded even more. "It knocked the stuffing out of us," he confesses. "Everyone just went, 'Oh, maybe Hebburn hasn't got legs after all then.' So we waited, and I stayed in touch with everyone as much as I could. I think we all had a bit of a hangover for about a month afterwards about the show coming to an end."
Then, ten days after his mope in a Chiswick pub on New Year's Eve, Grainger got a phone call. Hebburn had been commissioned too.
"When Jason rang me to let me know I was terrified," admits Grainger. "It's just a dream-come-true job, and such is my nature that in my head I was already re-casting the role to other people. I said to Jason, 'Am I still going to be in this?' To be honest, until the contracts were signed I still didn't dare get my hopes up."
A dream come true indeed. Landing a regular role in one of the BBC's most successful sitcoms in recent times must have felt light-years away for the teenage Neil Grainger, who only really joined his local drama society to "chat up a girl called Ruth."
Born in Middlesbrough in 1979, Grainger joined the amateur dramatics group at Middlesbrough Juniors when he was 13, and quickly began to discover the different lives you can have in the North East.  By his own admission, he wasn't a particularly sporty lad, so actively looked for another area he could excel in. Drama and theatre felt right.
At 16, he attended Stockton and Billingham College, where he worked with Wildcats of Kilkenny frontman Mike McGrother and founder of the Stockton Youth Theatre, Gordon Steel. "They ran a really brilliant course which let you personally develop and try out ideas to see what you really wanted to do. Lots of people decided on stage management and stuff like that, but I always wanted to act.
"So I applied to universities to do acting. I was terrified of applying to drama schools; I hadn't really any notion of what they were looking for. I looked at television and saw lots of well spoken, beautiful people and naively thought, 'I'm not going to get into acting school being from Middlesbrough.'"
After college, Grainger left the North East to study at Middlesex University, taking part in Edinburgh Fringe theatre productions while completing his course. He graduated in 2000, found himself an agent in London and landed his first big acting role in ITV soap opera Crossroads. "I was doing a play in Sheffield with the National Theatre and a couple of people who were in it were in Crossroads. A part come up, so I got in touch with my agent, auditioned on the Monday, on Tuesday I signed a three year contract and I started work on the Wednesday morning."
The job was a baptism of fire for Grainger. "Phil Berry was an amazing character to play", he says, "but I joined the soap opera at a difficult time. Crossroads was going through some major cast changes, and I felt it didn't particularly have the backing from ITV."
He left the show after a year and a half, and found himself trying to earn a living in London. To pay the bills, he began doing voice-overs for computer games, documentaries on the National Geographic channel and even donned the black lycra suit for some motion capture work. "There are countless people I know who were 'soap stars' that are now trying and struggling to make ends meet," he says. "It's a false reality."
Then seven years ago, Neil decided he wanted to get into comedy.
"A few friends of mine were running a comedy club called Duke's Comedy Club in Putney, and they said: 'Listen, if you want to get involved you can help us run the night.' I started doing that, and then I sort of took over the reins, really. Comedy became a labour of love."
Tim Vine, Lee Mack and Stephen K Amos have all tried out new material at Duke's, something Grainger is clearly proud of. More recently, he helped programme a three-day comedy festival at the Old Vic Tunnels in London; in total over 80 acts played, including Patrick Monahan, Henning Wehn and Lucy Porter. A jack of all trades, Grainger has even tried his hand at stand-up himself, but admits the quality on offer at Duke's quickly passed him by…
"My delve into stand-up hadn't really got to the stage where I was saying the things I wanted to say. It was just a means to an end to get me on stage, working and developing my type of thing. In the beginning we were getting open spots that were worse than me, but gradually I was becoming the worst on the bill, so you just take yourself off. It's better to just have a really nice line-up – and everyone's happier that way."
Then last September, Hebburn arrived. Grainger's agent called to tell him about an audition for a part in a sitcom pilot written by Geordie comedian Jason Cook.
"I'd heard about Jason, but I hadn't watched a great deal, so I watched his spot on Russell Howard's Good News and I was just blown away. I was a bit overwhelmed when I first saw him live because he's just so relentless. I count Jason as a really good friend now, and he's such a giving person in a conversation – but there's a ruthlessness to him on stage that I really admire."
So desperate for a role in Hebburn, Grainger paid for his own train ticket for the 11 hour round trip to the North East. In the function room of Newcastle's Bridge Hotel, he auditioned for the male lead Jack Pearson in front of producer Ted Dowd and Cook himself – though he knew straight away he hadn't landed the role. "They were lovely, but you just know when you've not got a part. I was so disappointed; I'd come all the way from London and I was going home with nothing.
"Then Jason said, 'Do you want to read for the part of the pub-singer, Gervaise?' And to be honest, I hadn't read up on it. I'd only read Jack's bits, but I said, 'Yeah, okay. Give me some idea on the character.' And Jason said, 'Well, he's got one of those ridiculous voices, like…' So I tried a voice, and then suddenly Jason lept up from his chair and said: "That's it, that's it!"
"Normally you don't feel like you're allowed to explore anything in auditions, but he pushed me forward, and once I heard him laugh a few times I just went for it then. Everyone had the same experience with Jason. You could just see that he loved seeing you put yourself into the part, and I think that's such a rarity from a stand-up of his kind of ilk; to allow other people to take over and be funny…"
It was by far the best audition he had ever had, and Cook obviously thought so too. He was adamant that Grainger was the best fit for the character – and immediately began writing 'Gervaise' with him in mind. Neil fondly recalls a time on set when Jason began re-writing Gervaise's lines based on an "apparently hilarious" scene from Crossroads.
"I basically spent most of the time in Crossroads chasing my on-screen girlfriend, Nicola. Everyone scene, Nicola would walk in, Phil would go over to her, they'd argue, she'd storm out and Phil would shout, 'Nicola…wait!'
"Jason and Chris [Ramsey] would piss themselves laughing at this, so Jason said to me, 'I'm going to write that into the script.' So if you watch Hebburn back, you'll spot me shouting, "Vicki…wait!" a lot. It's a really good example of the writing being just for you, I think."
Since its debut on BBC2 in October, Hebburn has proven to be a huge success in the ratings, with over 1.5 million viewers tuning in for each of the first three episodes. But taking the rough with the smooth, how does Grainger feel about criticism that the show perpetuates negative stereotypes about the North East?
"There was an attitude at the start from some people who thought Hebburn made us look like idiots – but I think that's gone now. I think the show puts a funny slant on the things that are already there, and it maybe highlights them a bit more than they are; but it's got so much heart behind it and it's written by a man who clearly cares about the place he comes from.
"I've been keeping an eye on Twitter. At first I went there tentatively, to see if it was trending and what people were saying about it. And that can be a body blow; because you see people saying vile things for no reason other than they didn't enjoy the show. Rather than saying, 'It's not for me', words like 'shit' were bandied about. But the vast majority of the feedback was positive. I knew how good Hebburn was in my head, but I know you can't really trust that. The more sitcoms you watch, though, the more you start to think, 'This is better. It's got heart, it's got warmth, it's got wonderful performances in it and…'
So clearly enthusiastic about the show, Grainger almost loses his train of thought, but eventually finds his way: "I read an article in The Guardian asking, 'Where is the comedy talent of tomorrow?' It's the comment that the industry is littered with, and I think Hebburn is just full of new, undiscovered talent.
"I think Lisa McGrillis and Vicki Elliott are great, and that, for me, is the answer to that question. And Jason too is now going to get the success and notoriety that he deserves."
One thing that really strikes you about Grainger is that he's always keen to deflect praise on to his cast-mates. I get the impression that perhaps even now, Grainger is still the boy from Middlesbrough who doesn't quite feel like he belongs on television. Yet he so clearly does, and hopefully he is here to stay.
It's time for final questions; I ask Neil where he sees Gervaise in future seasons of Hebburn, and ultimately where he sees himself.
"I don't know where Gervaise will be in season two – if there is to be a season two – but I think the next series would be more of an ensemble if it were to happen," he says. "In season one you always have to establish the main characters first to create an interest and a care, but just to be involved in series two would be a pleasure…
"I have no expectations about the character," he eventually concedes, clearly still reserved about where Hebburn will take him. Though behind his protective armour, one thing is clear; Grainger is having the time of his life. "Hebburn was a joy from the start," he confesses, "and every day it continues to be a joy. I just hope I get to do it all again."
Hebburn continues tonight on BBC2 at 10pm.