Suggestible goes solo in Good Timin'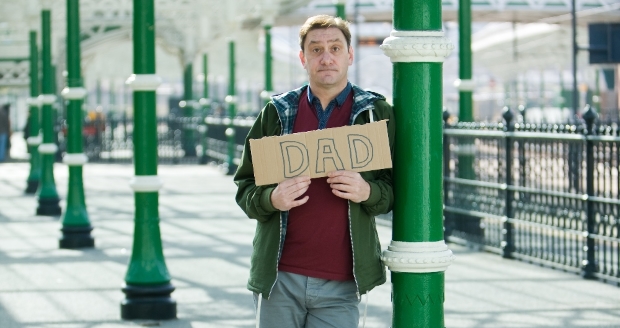 Ian Mclaughlin, best known for his work as an improv performer with The Suggestibles, previews his first play at Newcastle's Live Theatre before taking it to the Edinburgh Fringe.
Written and performed by Mclaughlin, Good Timin', which is described as a "funny, inventive and life affirming one man show", asks if there's more than DNA linking Ian to his missing father?
Mclaughlin said: "I was born in Croydon in 1963 and moved to Washington when I was seven with my grandparents.
"I didn't know my father growing up and I had never tried to find him.
"It wasn't until I was in my 40s that I started to think there was a piece of the jigsaw puzzle missing, so, with the help of my mum, we eventually tracked him down and I embarked upon this journey to find out about my errant father."
Throughout the show audiences will discover amazing parallels between their lives and personalities that make Ian question the very nature of nurture itself.
Fusing together personal testimony, stand-up and science, Good Timin' will question how much parents really pass on to their children and how the things that are kept from them can have a profound effect on their lives.
Ian added: "What I discovered was that my father and I had very similar life paths including the same careers, the same DVD collections and even the same sense of humour.
"Hopefully it's a story that people can resonate with and really relate to, and I hope audiences will come along with me on this emotional rollercoaster ride."
Good Timin' is directed by Live Theatre's artistic director Max Roberts, who guided the theatre through its 40th birthday last year with successful productions including Cooking with Elvis and Wet House, which returns later this year.
Roberts added: "One night he [Mclaughlin] told me the amazing story of this search for his lost Dad. It struck me immediately that it would make a fantastic one man show which he should write and perform.
"But the result is a beautifully written, witty and at times heart-breaking piece of theatre."
Good Timin', Live Theatre, Newcastle, Wednesday 16 to Saturday 19 July, then 15 to 25 October. Buy tickets.

Good Timin', King's Hall, Edinburgh, 14 – 23 August (not 17 August), 12.55pm, edfringe.com.