Wet House continues Live Theatre's birthday celebrations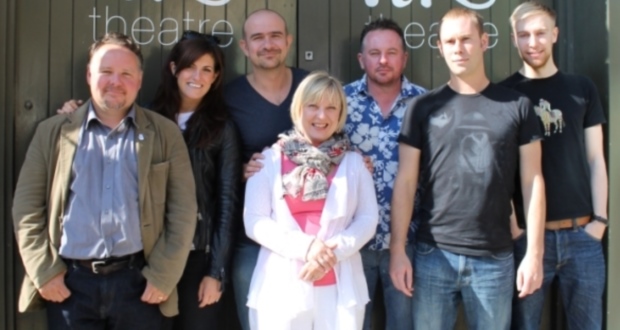 Image: Live Theatre
Paddy Campbell's debut full-length play about his experiences of working in a 'wet house', continues Live Theatre's 40th anniversary celebrations.
Wet House, which opens this evening at the theatre on Newcastle's Quayside, centres upon a hostel for homeless people with alcohol problems which allows them to drink on the premises.
Campbell had himself recently finished working in a wet house in the North East when he joined the writing course at the Live Theatre.
He says that the project has received a positive reaction from the people whose lives are depicted because their story is not often told.
"It sounds gloomy, but it is funny. People find humour as a way of coping."
Describing the play, the Live Theatre say: "When Andy, an idealistic young graduate, played by Riley Jones, gets a job in a wet house he is plunged into a twilight world where the rules about what is right and what is normal have become a little blurred."
Joe Caffrey and David Nellist, who both performed at a variety show on Saturday to support the launch of The People's Assembly North East, also appear in the play alongside Chris Connel, Jackie Lye, and Eva Quinn.
Wet House is directed by Max Roberts, who has directed many productions for Live, including The Pitmen Painters, Nativities starring Melanie Hill, and the recent Tyne.
Roberts will also direct Lee Hall's Cooking for Elvis, when it returns to Live next month, fifteen years after its premiere there.
Talking about Paddy Campbell's depiction of deprivation, addiction and desperation, Roberts said: "Including tragedy and sadness Wet House is also quite beautiful and hilarious.
"Being able to use comedy to address important and significant issues is a wonderful gift."
Wet House is the latest production to celebrate the Live Theatre's 40th anniversary, which has included Michael Chaplain's Tyne, alongside sketch and improvisation shows performed by Live's Youth Theatre.
Eva Quinn, who is appearing in Wet House, said that the theatre, which was founded on Tyneside in 1973 by Geoff Gillham, Val McLane and, amongst others, actor Tim Healy, "has a wonderful energy and feeling about it."
Healy is appearing in Gateshead this weekend at a DVD recording to celebrate the 30th anniversary of the first episode of Auf Wiedersehen, Pet, and narrates Channel 4's retrospective of music and comedy show The Tube, to be broadcast on Friday.
Wet House runs at the Live Theatre from 18 September to 5 October. For more information or to book tickets visit www.live.org.uk or contact the box office on (0191) 232 1232.