My top 10 Comic Relief moments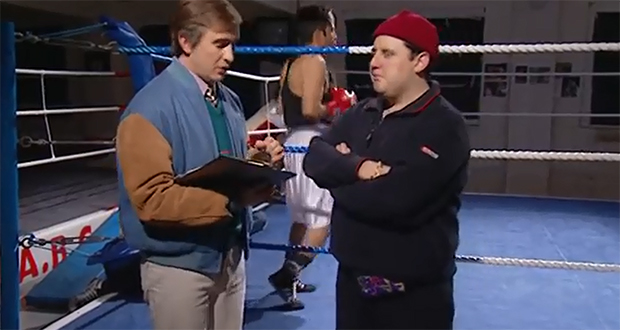 It's Comic Relief! Roll out the red noses, bake up a storm, dance yourself mental and disfigure yourself for laughs!
It's a time when, if you can do something for charity, you should. So what am I, Rob Gilroy, doing this Red Nose Day? Well, I'm supporting it. I'm not what you've call 'a hands on philanthropist', I'm much more about observing the good deeds of others and respecting them. Unless they're doing a marathon – I have no time for those strong-kneed, adrenaline-loving pity joggers.
This year I thought I'd get into the spirit of things. I've worn a red jumper and baked some bright red cakes for work's bake sale. Granted the jumper's now causing all manner of hot flushes, and I poured such a large quantity of food colouring into my buns, that they taste like iron-infused blood bars. So far so worthless.
I thought that instead I would focus on championing other charitable acts – namely; picking my Top Ten Comic Relief Moments. I decided not to choose from the donation videos as it might seem a tad crass.
So here's my countdown of classic Comic Relief sketches – your favourites may not be included but I couldn't care less.
Brett Domino – How to Make a Hit Charity Single
Starting with one from this year, it features Brett Domino creating a hit charity single. I'm a big fan of charity records, although I feel that celebrities often get in the way of the overall message. Look at John Lennon – he said 'war is over' yet I don't feel he had the necessary military background to declare peace. Bit insensitive really.
Ricky Gervais does Comic Relief
Filmed when Ricky Gervais' sense of self-worth was a little more justified, yet not completely necessary, this manages to poke fun at the internal politics of the charity while still doing its bit. Besides, Blue come off as nice guys, which has to be some sort of achievement.
Marion & Geoff: Comic Relief Episode
Really, I'll use any excuse to sing about the brilliance of Marion & Geoff. The show that made Rob Brydon a star – and didn't feature one jarring segue into Ronnie Corbett – the series itself remains a milestone in bittersweet comedy. A real joy.
This one-off special for Comic Relief managed to effortlessly continue the style of the series without crowbarring a celebrity into it. Fair play.
Message from the Archbishop of Canterbury
There's never a bad time to watch Rowan Atkinson. The man exudes funny. While he's arguably had other brilliant moments across Comic Relief's history – that's what you get when you make your bed with Richard Curtis in it – this one remains very silly. Causing controversy on it's airing because it didn't viciously slam Muslims and other religions, it's still is a silly few minutes in the presence of a great performer.
Dr Who and the Curse of Fatal Death
Now before you big Who fans get all whingey about whether it's cannon or not, let's focus on what's important – it's got Mr Bean against that guy from Brazil! Written by current DW showrunner, Steven Moffat, what's not to like about it? A great idea that keeps getting sillier, and it's one of the best uses of celebrity cameos.
Tony Ferrino and Bjork – Short Term Affair
I've said it before and I'll say it again – bring back Tony Ferrino. If they can do it with Wispa Gold then why not Portuguese's number one signing sensation?
His Phenomenon is truly spectacular and this special Comic Relief appearance captures some of that magic, though it's lacking the sheer magnetism of Kim Wilde. Bjork does an exceptional job of bringing even more gravitas to what I call 'one of the best songs of the 90s'.
One Foot in the Grave
An odd entry, this. It's the last ever appearance of Victor Meldrew.
What at first felt like another one of those Vicar of Dibley comebacks, turns into something much bleaker. It is a master class in performance and David Renwick's writing – much like the series itself.
RIP Victor.
The Sugar Lumps
Looking back now, it's really hard to explain how massive this was. The sense of anticipation was palpable. Or it was to me, as a lowly 10 year old.
It truly felt like the biggest comedy stars of the time were teaming up with the biggest band in the world. Seeing the outstanding Kathy Burke and Llewella Gideon alongside French and Saunders and, er, Lulu – was genuinely exciting. Great performances and a pretty game set of Spice Ladies, this was special.
Forget your moon landings and your OJ Simpson trials – this was real event telly.
Bob Hoskins
Celebrities and comedy don't always mix, especially when it's for charity. In fact some comedians even struggle to be funny for charity – I think back to my performance as Sergeant Meathead at the Help the Heroes fundraiser. Here, however, the late, great Bob Hoskins – one time Mario Mario – shows how brilliant, and brief, a sketch can be.
WARNING: Features obligatory Jimmy Nail cameo. Just for my mum.
And saving the best till last…
Alan Partridge vs Tony Maloney
Comic Relief is all about pairing great comedians together. Catherine Tate with Little Britain, David Tennant and Davina McCall, French and Saunders – who thought these great pairings would be so fruitful. This one has to be, for me, the best. Steve Coogan and Peter Kay together is one epic showdown. It's like Tyson and Lennox or Bonnie and Clyde.
So there you have it; my Top Ten Comic Relief Moments. Hopefully it provided some laughs, and if it didn't then shame on you. Think of the children. Oh no, that's the other. To donate to Comic Relief, go to their website.