Magic in store for Teesdale as Pete Firman returns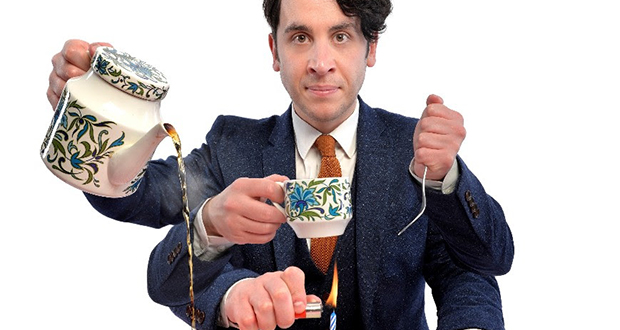 Comedian and magician Pete Firman is to return to the North East on Saturday 1 October 2016, when he brings his new show to The Witham, Barnard Castle.
Dubbed "the UK's leading comedy magician" by Time Out, Pete Firman's new show TriX will see him bring his trademark blend of crowd-pleasing comedy and jaw-dropping magic to Teesdale, fresh from his 10th year at the Edinburgh Festival.
Pete's talent for effortlessly fusing magic and stand-up has made him one of the most sought-after performers in the country, and has lead to countless television appearances on the likes of The One Show, The Magicians, The John Bishop Show, BBC Breakfast, The Sarah Millican Television Programme, Comedy Rocks with Jason Manford, This Morning.
He is also an accomplished presenter, having fronted the game shows Stakeout and Wait For It for BBC1 and The Body Shocking Show for E4.
Having performed nine sell-out shows to date, TriX marks a decade of critically-acclaimed appearances at the at the Edinburgh Festival for Middlesbrough-born Firman.
He has also appeared at the prestigious Just For Laughs Comedy Festival in Montreal, Canada, and has toured the UK with five solo theatre shows.
Peter Dixon, of promoters Funny Way To Be, said: "Pete Firman last did a show for us in 2014 and members of the audience still tell me it was one of the best shows they have ever seen.
"Pete's pace never wavered throughout the entire set, with quick-fire jokes and gob-smacking tricks. Folks were still speculating about how the magic might have been done long after the show.
"It's one thing to produce great magic, but to turn the performance into a top class stand-up show demonstrates the huge talent that Pete Firman brings to the stage."
Due to the family-friendly nature of the show, the event will welcome audience members aged 14+. Dixon added: "We are pleased that because of the tone of the show we are able to invite slightly younger audience members. It's a real family show."
Tickets are priced £15.50/£13.50 concessions and are available from funnywaytobe.com.