Transmission date revealed for Jesting About 3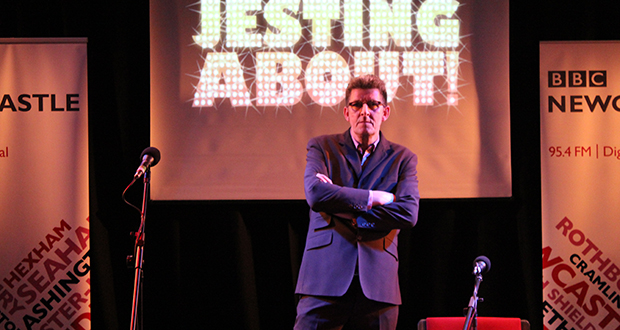 Jesting About 3 organiser Steve Drayton.
Jesting About was first launched back in 2011, and it was a massive undertaking. Sitcom, webcom and every other kind of com was catered for.
It worked, and the following year it happened again. Lots of people got seen, employed and broadcast, and then, that seemed to be it.
Until last November when I was summoned and grilled as to whether there was enough North East talent around about to support a six part series. There was. There is. So I made it.
Obviously I didn't do it on my own. I did it with some top notch technical talent at Live Theatre, with all the support they provide. I did it with lots of BBC support and most importantly, made it with a group of generous comedians and performers who worked their socks off to give two nights of laughter to a most splendid audience.
Sitting in a studio with only the voices for company I soon realised that with many of the acts, the beauty of what they were doing was in the process of heading for a laugh.
I had another reliable pair of ears to help me – it's so very easy to lose perspective once you've heard something five or six times. The best comment to sum it all up was that aside from the laugh out loud moments, the ebbs and flows of the comedy are constantly amusing and entertaining.
I'm really chuffed to have been able to capture this moment in North East comedy. I'm really chuffed to have worked with some lovely people. I think we've made a great set of shows.
Jesting About is on BBC Newcastle 95.4FM on Mondays from 1 June at 5.30pm, and then available on the BBC iPlayer.
JESTING ABOUT ONE | TX/1/6/15
Nicola Mantalios Lovett
Hal Branson
Rowan McCabe
Matthew Reed
Alexander Jackson
Silly Billies
Catherine Scott
Andy Fury
JESTING ABOUT TWO | TX/8/6/15
John Whale
Funny Team x 2
Julian Lee
Pipe Riot
Katherine Tanney
David Callaghan
JESTING ABOUT THREE | TX/15/6/15

The Mimic Men
John Scott
Hot Gulp
Sammy Dobson
Barry Fox
Katie Yossarian
Mark Kennedy