Five questions for Sarah Campbell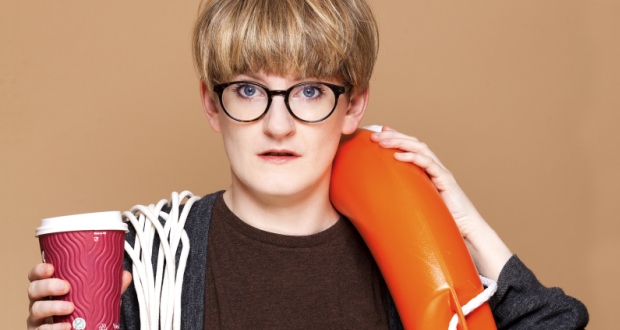 Sarah Campbell returns to Edinburgh in August with her new show, Don't Worry Guys It's Sarah Campbell. She talks to Giggle Beats about the show, her role on ITV2's new show, Bad Bridesmaid, and more.
Hi Sarah. Last year was your debut Fringe show – what did you learn from the experience?
The material for my debut show came after I realised that I'm much funnier when I'm aghast than when I'm smiling.
For a few years when I was starting out I thought I had to hide my natural doominess in my act or at least temper it because I thought people wouldn't want to hear it.
But eventually I thought fuck it – if it's going to be there anyway I may as well make all this angst work for me, so one night I got onstage and spilled my guts and people really responded to it.
Tell us about your new show, Don't Worry Guys It's Sarah Campbell.
It's about my incredible ability to worry, and the stuff I worry about. Some of the worries you may share with me, some you may not.
I talk about everything from everyday nagging background anxieties to elaborate dilemmas. But I also talk about how I've tried to combat the worry, but sometimes the cure is worse than the disease…
You do a bit of writing for television and radio – is it more satisfying to write for yourself?
Yeah I do a fair bit of writing. I suppose by satisfying you mean that I don't get to deliver the jokes in person, but when you write for other people you write in their voice, so if I performed the jokes they wouldn't work anyway, because they don't fit with my persona. A lot of Russell Howard fans come and see me expecting knock-about ladsy fun and are disappointed to find a neurotic over-intellectual lesbian!
I love writing for others, it's like being the Wizard of Oz behind the curtain – I'm writing for the current series of Dead Ringers at the moment (the Radio 4 impressions show) so getting celebrities to say what I want them to is great fun. And sort of unhealthy…
You're part of ITV2's new show, Bad Bridesmaid, in which you take on an undercover role at a real hen party. What can we expect from that?
Loads of priceless moments! I spent four days in character on this hen do and it's the strangest, hardest, and most fun thing I've ever done.
It was so surreal at points. Every so often as I was about to unleash more madness on the poor unsuspecting hens I'd take a step back and think "this is my life. This is what I'm currently employed to do."
I think the show is going to be really, really funny as I've seen a couple of the other episodes and they cracked me up. After you get through the first day it becomes harder and harder not to corpse. At one point I had to pretend to be looking in my bag for ages because I'd completely lost it. I was bent double, with my head inside a backpack, crying with laughter. The weird thing is I can't remember a lot of it – so many things were improvised and in the moment.
What's happening in your world after the Fringe?
Well, apart from the Bad Bridesmaids launch there are a couple of projects I'm excited about but as a rule I don't talk about upcoming stuff for fear of jinxing it. Did I mention I'm a worrier?
Don't Worry Guys, It's Sarah Campbell, Cabaret Voltare, Edinburgh, 2-23 August, 5.05pm, FREE.