Ian McLaughlin on his new comedy play Good Timin'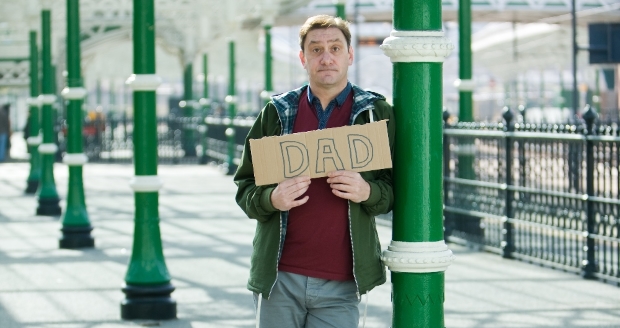 Following a successful run at the Edinburgh Fringe, with a nice review from The Scotsman under its arm, the comedy drama Good Timin' returns home to the Live Theatre in Newcastle.
Written and performed by Ian McLaughlin, who is best known for his work as an improv performer with The Suggestibles, the play sees him try to get to know who his dad was.
He takes a quick break from rehearsals to chat to John-Paul Stephenson about how the show was conceived, and the challenges of sticking to a script.
JPS: How did Good Timin' come about?
IMc: I bumped into Max [Roberts, artistic director at the Live Theatre] next door in The Broad Chare pub, and I had recently got back off the train from the journey which forms the basis of the story. I told him the story over a pint, and he said, "That might make a really interesting show". My first instinct was to say, "Do people really want to see me – a fat, middle-aged man whinging on about his life?" Also, I'm not a big fan of one-man shows in general, because they generally involve playing a saxophone; you shoehorn in any skill that you've got.
Max encouraged me, then I realised that the show's themes might resonate with people, and it might be worth pursuing. A year and a bit of writing, and here we are!"
JPS: You previewed the show here at Live Theatre and then went up to the Fringe. Has the show developed since Edinburgh?
IMc: It has quite a bit. We've written some bits to make them clearer, I've found some new bits of information that I've added to the story. We've generally tightened it up, and made it more of a rollercoaster for people. We took on board some of the reviews as well, although we were quite lucky and we didn't get any really nasty ones. The audience feedback has been amazing, with people coming up to me after the show and telling me they have a similar thing with a brother or father. It makes it all worth it, really.
JPS: So you keep an eye on reviews? It's been an odd year in Edinburgh, with a sort of rebellion against reviewers.
IMc: Everyone is still obsessed with the star system. I got a really nice little review from The Scotsman, but they only gave three stars, and I thought, "Hmm, all this work for three bloody stars." But then a guy told me that that was amazing, as they weren't handing stars out this year. But, everyone in Edinburgh has got five star reviews from somewhere or other, so you can't tell. It's all down to word of mouth.
JPS: Yeah, and you don't know that's going on in the background, and the politics between journalists and performers, and that kind of thing. Is this the first time you've performed the show since Edinburgh?
IMc: We did nine shows in Edinburgh. It was really good fun. The houses were quite small, but that's Edinburgh for you, and I'm used to doing them with the improv comedy. It makes the show much more intimate, pulling the people into the story.
JPS: Yes, I would imagine that small audiences worked really well for such an intimate show…
IMc: Yes, it's a very personal show. We were trying to make it so that it was like me sitting here telling a story personally. I hope it resonates with people. It is a comedy, but it is quite sad in places.
JPS: That sounds like many stand-up shows. Anyway, bringing it back here to the Live Theatre, I guess you don't have as many practical constraints as in Edinburgh?
IMc: Poor Max was pulling his ears off. It was a nightmare to trim it down. You don't want to do it too quickly because then the words are just falling out of your face. We got it down to 57 minutes, which still worked, but it was a shame that we had to lose some of the nice bits and pieces, which we've brought back in. We've changed the ending slightly. The set is slightly more elaborate too, and we've added more multimedia.
JPS: You're known in the region these days for your improv comedy, so how does it feel having to perform a script?
IMc: I'm comfortable getting up on stage with not a clue what I'm going to say. It doesn't bother me in the slightest, and I love it. But, doing Good Timin' is one of the most terrifying experiences in my life. It's a different part of my head. Improv is about being spontaneous, switching off the intellect and it all just flows out to work together to make something happen. This is something different; you have to learn thousands of words – I should've written a mime show or something – and it's difficult, because I look at the script and want to go off on tangents. Max has to battle with me sometimes, and says, "No, read the line you've written."
JPS: Are you planning on doing anything more comedy theatre?
IMc: I've really enjoyed the writing process, and I would like to pursue a bit more. It won't be another one-man show, I think, but I'd like to write a play with other actors, so I can sit back, and feel incredibly clever.
JPS: Has Good Timin' got a life after its current run at Live Theatre?
IMc: I hope we can do a little regional tour and get it out there, and potentially going into schools and colleges, because there are some themes in the show which resonate with younger people. I spend a lot of time in the show being my younger self.
Good Timin' runs at the Live Theatre, Newcastle from Wednesday 15 October until Saturday 25 October 2014. Tickets are available from the theatre's website, in person at the box office, or by calling (0191) 232 1232.